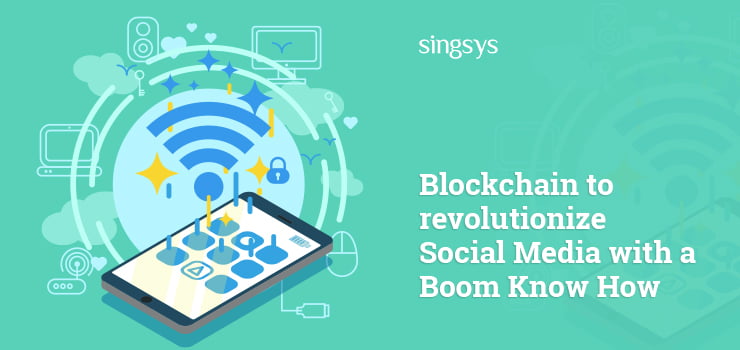 Social media is undeniably most used and useful platforms alone in web space. Globally, social media websites dominate any other form of websites in terms of total time spent online. This popularity makes them a means to connect anytime, anywhere over any device. Now with popularity ease and comfort arrives the concern on security in terms of social media it would be more appropriate to call it as privacy.
Have you ever wondered how ads pop up on your smartphone screen and more importantly they sell you what you have been planning for quite some time. The process of 'Digital Profiling' is behind these unwanted ads and weak security standards of social media platform are exploited to gain access to user sensitive information and tailor ads to target these users.
The reason behind this is 'centralized' control model of social media but soon it will be history as next-gen cutting edge technology Blockchain supports decentralized' models of social media which is way more secure than existing model. It is therefore very much mandatory to transform social media with power of blockchain.
Listed below are few smart ways blockchain is enhancing social media privacy.
1- Decentralized social network
As blockchain upon decentralizing makes it quite impossible to hack into users account after breaking into social media networks. The reason being data will be spread over the entire network and is stored in different systems so there is no single point that can be attacked and exploited
2- Secure currencies in the platform
Blockchain is capable of converting social media into a super secure online market allowing user to buy/sell on behalf of secured transactions using cryptocurrency. Nexus Social and Obsdian are example of such applications which own their currency that user will use to do a purchase on the blockchain powered social media platform.
3- Anonymous Messaging
The beauty of blockchain is that it is capable of developing social media applications that can be developed to support anonymous messaging for users. This type of application will be really helpful in regions where specific social media platforms are banned.
4- Verified news feed
The frequency of misleading news posts have increased a lot in recent past. The drawback of these posts is it mostly leads user into believing or embracing a lie which further adds to unwanted confusion. Blockchain backed social media will filter the news feed based on its authenticity before it is made accessible to users. This will boost the availability of authentic news articles
5- Inaccessible to Google indexing
Currently every bit of details can be easily found with Google's indexing feature. This technique is implemented by majority of firms to have access to personal info of users that is privacy breach of an individual. Using blockchain on social media websites will block any possibility of indexing thereby securing our data from getting into unauthorized hands
'Indorse' is one such reward oriented decentralized network of professionals based on Ethereum blockchain. Indorse uses a LinkedIn type professional networking model that allows users to have their data ownership at the same time users will be rewarded for using the platform for sharing their professional skills. This reward system and data ownership is based on decentralization and tokenization principles of blockchain.
Partner with Singsys to develop an engaging mobile, web and e-commerce application to turn your ideas into real working apps. Singsys has talented and certified pools of developers to design an affordable and attractive solutions for clients in compliance with industry standards using state of the art cutting edge technologies. Get Quote Now.
 You may be interested in below: