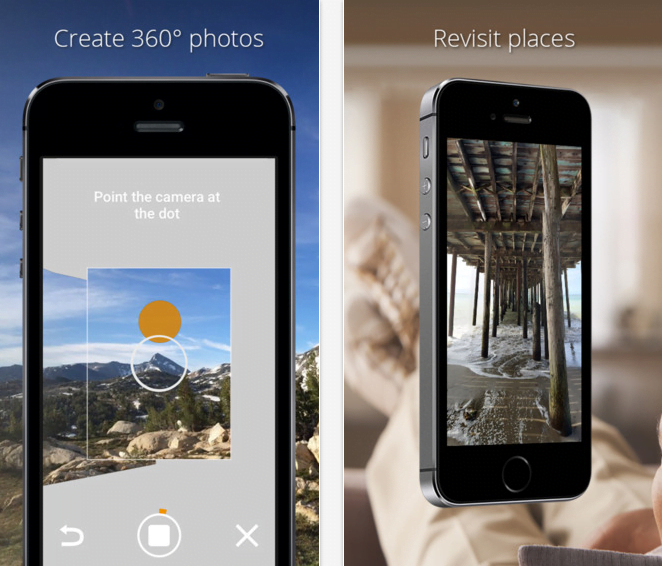 Google's existing 360 degree photo sphere camera app which is available only for android users is now available for iOS too.
Photo Sphere app helps you to capture three-dimensional view of any place and also allows you to revisit the places as well. Google Camera app snaps quick and easy photos and videos, and provides you with interesting and creative photo modes such as Photo Sphere, Lens Blur and Panorama. After taking the 360-degree photos you can also publish them to Google Maps and other social media networks such as Facebook, Twitter, and Google Plus etc.
To take the photos in 360 degree directions you just need to install the app available on the Apple app store here. After the app is launch on your device, select the camera menu option and you will see an orange positioning dot with a targeting frame allowing you to take creative photo which will be 360 degree image. The app description on Apple app store read as, "Create beautiful 360º images, and publish them to Google Maps. Photo spheres empower you to look up, down, and all around to revisit the amazing places you've encountered — and share them with anyone. Note: the iPhone 4 cannot create photo spheres."
After you create an image using the app you can submit it to Google Maps. The Google Maps team will take 24 to 48 hours to review the image submitted by you and consider it for inclusion on Google Maps. What makes Google's Photo Sphere Camera App unique from other similar available app is you just not look left and right, but also up and down like you can view with Google Street View.
Photo Sphere Camera App is optimized for iPhone 5 and is free to download on the Apple App Store. It is compatible with iPhone and iPad and is only available for devices running iOS 7 or later. The app is available for free to download. Watch a quick tutorial video on how to use the app and share your thoughts in the comments section below.