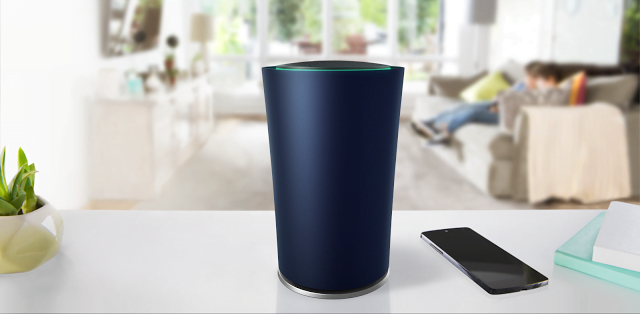 Google has launched simple and easy-to-use WiFi Router, OnHub priced at $199. The company has unveiled OnHub  to fulfill all your home connectivity needs.
Google says OnHub has various amazing features to make it both effective and open to the normal user.
OnHub uses "smart software to find the best Wi-Fi connection." It's additionally ready to organize individual devices to verify they have fastest connection when required, and 13 antennas in a circular arrangement that help in supporting the maximum speed of 1900 Mbps.
Google has announced this news in its blog, "While we count on Wi-Fi more than ever to be entertained, productive, and stay connected, we're streaming and sharing in new ways our old routers were never built to handle. So today, with our partner TP-LINK, we're launching OnHub, a different kind of router for a new way to Wi-Fi. Instead of headaches and spotty connections, OnHub gives you Wi-Fi that's fast, secure, and easy to use. Many of us keep our router on the floor and out of sight, where it doesn't work as well. We replaced unruly cords and blinking lights with internal antennas and subtle, useful lighting, so you'll be happy placing OnHub out in the open, where your router performs its best. "
Company has launched this router with the help of its partner TP-LINK. Setup of OnHub is easy and the device works by automatically scanning your local airwaves to find the best channel for you. "A unique antenna design and smart software keep working in the background, automatically adjusting OnHub to avoid interference and keep your network at peak performance," Google says.
The router is managed by a mobile app that can run on android and iOS and you can manage all of your devices directly from the app. The new router, OnHub is now available in the U.S. on the Google Store, Amazon and Walmart.com.