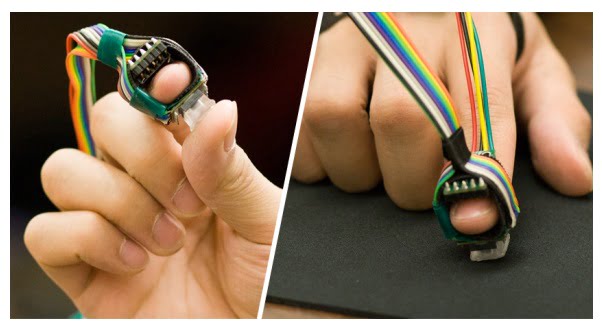 Image courtesy: MIT Technology Review
A thimble-like device that sits at the end of your finger and allows you to interact with the virtual world in three dimensions may kill your computer mouse.
The device could allow the users to interact with their computers by moving a finger and sensing its position accurately in three-dimensions, some experts says.
It does this through the use of three types of sensors, a 3D accelerometer, a 3D magnetometer and a 3D gyroscope.
MIT Technology Review says, "The result is the 3DTouch, a thimble-like device that sits on the end of a finger, equipped with a 3D accelerometer, a 3D magnetometer and 3D gyroscope. That allows the data from each sensor to be compared and combined to produce a far more precise estimate of orientation than a single measurement alone. In addition, the 3DTouch has an optical flow sensor that measures the movement of the device against a two-dimensional surface, exactly like that inside an ordinary mouse."
This device also works by reciprocating to a set of pre-programmed mouse-like gestures that allow the users to interact with objects in three-dimensions within the interface of their computer. The gestures in the device include selecting and dragging, finger tap, double tap, and click.
The device is linked by wire to an Arduino controller which combines the data from all the sensors. The fused data is then streamed to a conventional laptop. "This wired connection later could be replaced by a wireless solution using a pair of XBee modules," researchers said.
"Overall, these guys have an interesting device on their hands that could be coming to fruition at precisely the right time. Nguyen and Banic and co say it will work with existing devices such as a desktop PC or a Cave Autonomous Virtual Environment.
But in recent months, a number of practical virtual reality devices have begun to emerge such as the Oculus Rift and Google cardboard. A cheap and easy way of interacting with these new virtual reality devices could turn out to be hugely useful." says MIT Technology Review.
This video demonstrates how this device works: