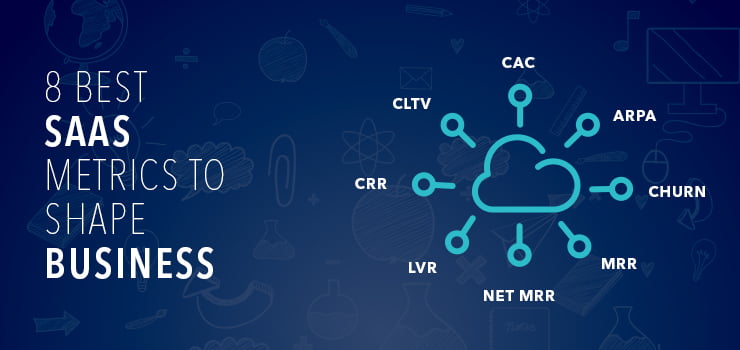 Like every business type Software-as-a-service (SaaS), is set on a core collection of metrics that need to be tracked to improvise shape of business growth. A definite set of metrics need to be tracked during a particular business growth phase.
Following 8 useful metrics will help in decodify the insights for being a successful SaaS Business owner
1. CAC – Customer Acquisition Cost
In simple terms The cost of customer acquisition (CAC) is the price you need to pay to get a new customer. It is very crucial metric for any E-commerce website. It provides insight regarding how much value are you earning from customer with respect to how much it cost you to acquire him.
2  ARPA – Average Revenue Per Account
Average Revenue Per Account is a measure of total revenue generated with an account on yearly or monthly basis. It basically represents the Actual Average Revenue per Customer. It also allows analysis of a company's growth at unit level that ultimately helps investors to identify products importance based on revenue generations .
3  Churn
Churn metric measures the final failure in SaaS, which is all the customers who tried out your product and decided it isn't worth paying for. It is very important for startups. On average a 5% – 7% Annual churn is the the good churn rate which reflects to 0.42 – 0.58% monthly churn.
4 MRR (Monthly Recurring Revenue)
Monthly Recurring Revenue metric is the recurring revenue normalized into a monthly amount. Through this you can average various pricing plans into a single digit that will track the trend over a time period.
5  Net MRR (Monthly Recurring Revenue) Growth Rate
It is a useful metric to measures the month over month percentage increase in net MRR. With addition of every new revenue or customer upgrade,downgrade and churn the net MRR experience a variation. This variation is reflected by Growth Rate based on these factors on monthly basis ( the, the growth rate shows the net variation of those factors from month-to-month. In this manner Net MRR (ensure a complete understanding of how fast is SaaS organisation growing.
6  LVR (Lead Velocity Rate)
The Lead Velocity Rate is the growth percentage of quality leads made over several months. It mostly measures pipeline leads. The number of potential customers you're focusing at present to convert into actual customers. This metric provides a clear picture of future growth pattern in the upcoming months.
7  CRR (Customer Retention Rate)
This metrics provide information about customers who renew their contracts when they are upto renewal. The retention ratio is available on annual, monthly or quarter basis based upon duration of the contract.
8  CLTV (Customer Lifetime Value)
Customer Lifetime Value is measure of the profit your organisation makes from a particular customer. The main objective of the customer lifetime value metric is to assess the financial value of each customer.
We have uncovered layer by layer 8 underlying key SaaS metrics to boost business success.