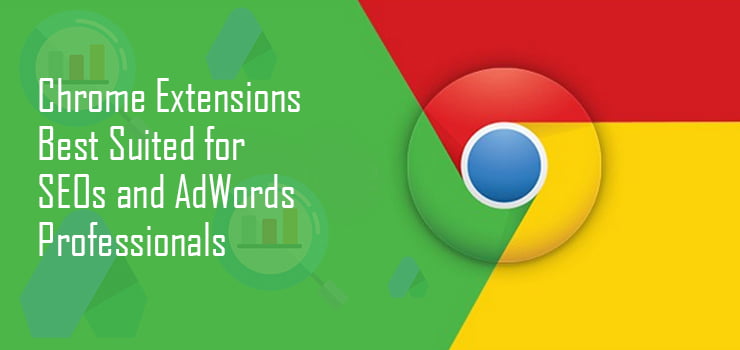 Google Chrome is a fast and lightweight browser, this browser is a very good option for users who desire a great browsing experience. Being an SEO professsional or Google Adwords expert it is imperative to accomplish your goals fast in order to maintain the efficiency and beat your competitor.
Chrome provides a wide array of extensions to easily take care of these problem so that it doesn't impacts the task outcome negatively and gets work done faster. With that in mind, I've compiled a list of my favorite extensions to help you do the same. I have compiled a comprehensive list of best chosen extensions which can quickly examine code, build better links, analyze website performance and ultimately save time by enhancing task efficiency.
1- Google Tag Assistant
It is interesting tool that communicates to webmasters that Google Analytics, AdWords and GTM tracking is rightly installed and working seamlessly. It eliminates the hassle of going deep into code for this task. This extension allows your sessions to be recorded and reviewed.
2- MozBar
This addon lets you view the Page and Domain authority of the website. It is useful to know how good a specific webpage and an entire website will rank in search engines. It also provides information regarding page title, number and location of no-follow links and also heading tags .
Based on your account subscription it provides information. In case of free account it provides limited information like Page Overlay, Custom Searches, Link Metrics, Social Metrics, On-Page Links (Followed, No-Followed, External, or Internal) and Data Export (CSV).
3- Redirect Path
In case when performing SEO audit over an individual page or small bunch of pages then using this extension will be beneficial. It will display various errors like 404, 301, 302 and 500 HTTP Status Codes along with client side redirects like Meta and Javascript redirects. An added advantage of this Google Chrome extension() is it being free of no spammy ads or features that you need to pay to get access to.
4- AdWords Graphr
AdWords Graphr is an extension to turns website complex data into interactive charts that you can be send to clients as screen shot. Watch below  video to know how exactly does it makes your task so easy. It present pretty fair picture of evolving metrics based on your website data.
5- Check My Links
This extension will remove broken links simply by clicking the extension icon. It also checks the current status of all the links. It highlights working links with green and uses red to display broken.
Above mentioned addons might have a learning curve which is worth giving a shot, I recommend implementing them out to strengthen your digital marketing strategy and gain an edge over your competitor