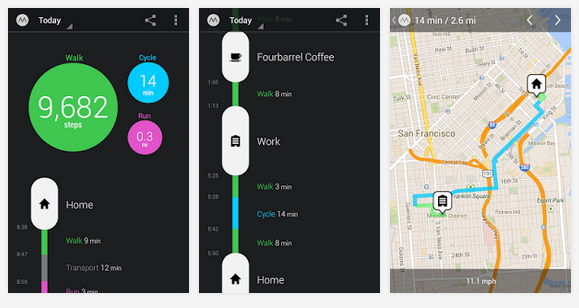 Facebook has acquired the popular fitness and health tracking app Moves and the team behind fitness tracker app Moves available on iOS and Android is joining Facebook after the acquisition.
The company said in a blog post today – "Today, we're delighted to announce that Facebook has acquired our company and the Moves app. Since we launched Moves, we've been focused on running a simple and clean activity diary that millions of people have enjoyed using.
Now, we're joining Facebook's talented team to work on building and improving their products and services with a shared mission of supporting simple, efficient tools for more than a billion people."
Moves which is operated by Finnish company ProtoGeo Oy was launched in 2013 and according to report this fitness tracking app has been downloaded more than 4 million times by users. It allow its users to track their runs, walks or rides and plots the user's routes on a map. The app runs in the backgroung of the user's handheld device and it also makes a note of when you've stopped at a particular location you have previously identified within the app In a statement, Facebook said "The Moves app will continue to run as a separate, stand-alone application. The Moves team has built an incredible tool for the millions of people who want to better understand their daily fitness activity, and we're looking forward to the app continuing to gain momentum."
Terms of the deal were not disclosed yet by either company.Facebook commented on the acquisition in a press release:
"As part of Facebook's multi-app strategy, we're excited to announce that the popular Moves app will be joining Facebook's suite of applications. Key members of Moves will be joining Facebook at our headquarters in Menlo Park, CA."
Facebook has already made several big acquisitions this year, including the $19 billion deal to buy WhatsApp and a $2 billion deal to buy Oculus VR. You can download moves app on Google play store here.