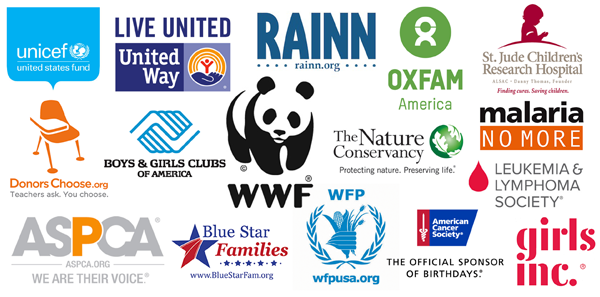 (image from Facebook)
Want to donate to charity from the social networking site? Facebook has launched "Donate" Button that will allow non-profits to easily take contributions from users directly from their facebook page.

Facebook users can make a donation of $10, $25, $50, $100 and $250 from the donate box that appears below the page tabs of Facebook page. After clicking on donate now button users need to enter their credit card number and other billing information to complete the process.
Here is a list of those 19 non-profits organizations who can now accept donations from their Facebook Page:
1. Oxfam America
www.facebook.com/oxfamamerica
2. Donors Choose
www.facebook.com/DonorsChoose
3. LIVESTRONG Foundation
www.facebook.com/livestrong
4. Leukemia & Lymphoma Society
www.facebook.com/LLSforacure
5. Water.org
www.facebook.com/water
6. The Nature Conservancy
www.facebook.com/thenatureconservancy
7. Malaria No More
www.facebook.com/malarianomore
8. Girls Inc.
www.facebook.com/pages/Girls-Inc
9. World Wildlife Fund
www.facebook.com/worldwildlifefund
10. Boys & Girls Clubs of America
www.facebook.com/bgca.clubs
11. ASPCA
www.facebook.com/aspca
12. RAINN
www.facebook.com/RAINN01
13. St. Jude Children's Research Hospital
www.facebook.com/stjude
14. American Cancer Society
www.facebook.com/AmericanCancerSociety
15. Blue Star Families
www.facebook.com/BlueStarFamilies
16. UNICEF
www.facebook.com/UNICEF-USA
17. Kiva
https://www.facebook.com/kiva
18. United Nations World Food Programme
www.facebook.com/WorldFoodProgrammeUsa
19. The Red Cross
www.facebook.com/redcross
According to Facebook's announcement post: "The Donate feature will appear beside Posts in News Feed shared by participating nonprofits and at the top of their Facebook Pages. When people click "Donate Now" they can choose the amount, enter their payment information, and immediately donate to that cause. They also have the option to share the nonprofit's post with their friends. We hope this will help increase donations as people encourage their friends to donate to the causes that are important to them."
Any other non-profits who wants to collect donation through donate now button on their facebook page, they first have to fill out the Nonprofit Interest Form here https://www.facebook.com/help/contact/585894954798346