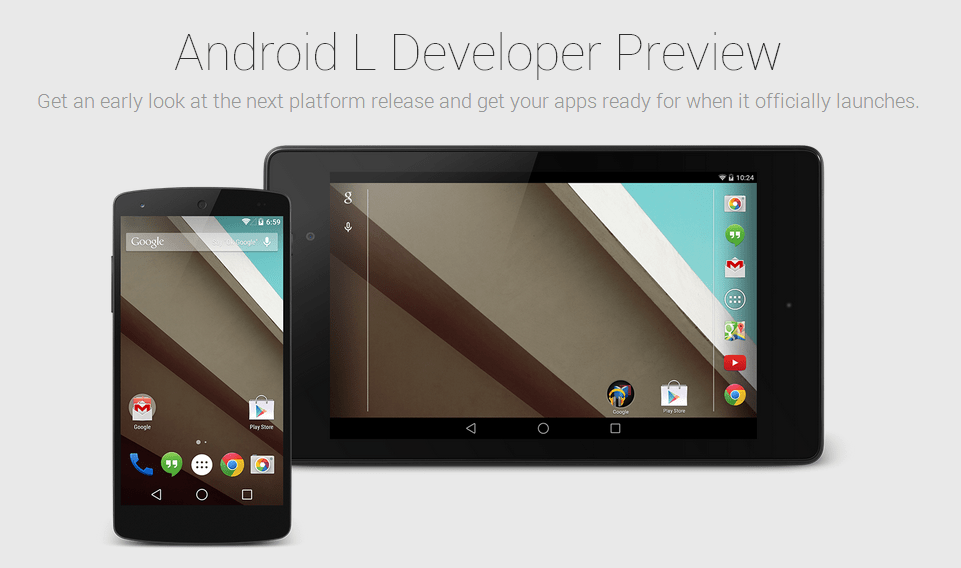 Image: Google
Google today at I/O developer conference, announced a next big android update i.e the developer preview version of Android L, the upcoming android operating system.

"That comes out tomorrow," Android user-interface engineer, Chet Haase Haase said. "Please get started developing today." Taking elements from windows Phone 8 and iOS 7, L features new colors, new notifications and totally new UI design. Google will use the design across Chrome and all of Google's services. "We challenged ourselves to create a design that was not just for Android phones and tablets," said Matias Duarte, head of Android user experience, today.
The most amazing feature of Android L is a new design language called Material Design, which includes shadows, subtle textures and bright colors to Android. Also the design will work on a smartphone, tablet, smartwatch or TV. With android L the android apps will have better performance and improved battery life and new battery enhancements. To improve the battery performance, Google introduces Project Volta
Google said in a blog post – "Bringing material design to Android is a big part of the L-Release of Android, the version we previewed today. We've added the new Material theme, which you can apply to your apps for a new style: it lets you easily infuse your own color palette into your app, and offers new system widgets, screen transitions and animated touch feedback. We've also added the ability to specify a view's elevation, allowing you to raise UI elements and cast dynamic, real-time shadows in your apps."
Android L also introduces a new Android Runtime "ART" to replace Dalvik, and integration with its Android Wear platform. "ART" will allow android apps to run faster which will be compatible with every kind of processor, including ARM, x86, and MIPS chips.
More often there are a total of 5,000 new APIs in the new L version.
Android L preview also introduces the new look and feel for notifications, "In L, you hear your phone buzz, you take it out out, turn it on, and that's it," Sandler said. "It's completely glanceable.". Android L will also be able to detect some network problems so that apps can adjust accordingly.
"It allows a graceful handoff from one link to another — if you're about to lose Wi-Fi when it's losing its range, you can rebuild [a video] stream on cellular [networks] with no interruption to the user," Sandler said. The final name of "L" is not yet revealed by Google.