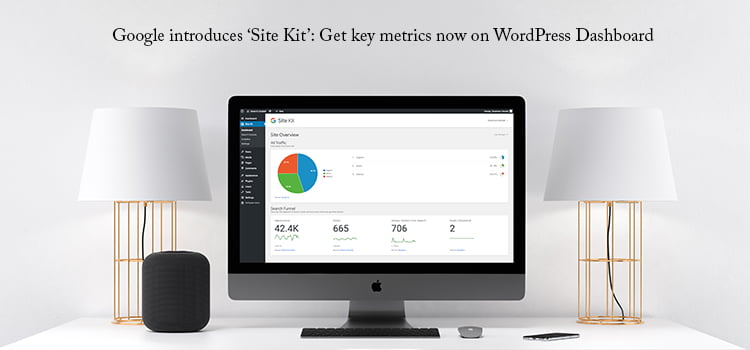 Google came along with a startling surprise for all WordPress owners this early November!
With the introduction of the beneficial all-inclusive metrics insights upon the WordPress's console, the introduced 'site kit' plugin is an amalgamation of the Search Console, Analytics, AdSense, PageSpeed Insights, Tag Manager and Optimize for WordPress sites.
This free and open-source plugin for WordPress configuration is in true sense a vital disposal for the site owners to assess all important user-centric statistics at the onset and at the most significant positioning. It would enable key strategic decision making upon the funneled insights serving as a revolutionary Google's official plugin.
Site Kit's Rewarding Benefits
With easy understanding upon the know-about of the site and strategically comprehending as to what strategy to adopt next, Site Kit fulfills the said huge goals and could be easily downloaded from here. 
Analytics:

Flexibility to explore how your users navigate your site and end-up tracking the predefined goals you've set up for them.

Search Console:

Enabling you as a site-owner to keep a close-watch upon how Google Search discovers your pages and displays them along with getting much-sophisticated insights per the query they used for searching your site.

AdSense:

Monetary tracking of the site to get up going with the performance.

Tag Manager:

Eased setting-up of the tags in the Tag-Manager with no code editing required and lucid manageable edits. 

PageSpeed Insights:

With on-the-go comparison with the pages of the other real-world sites, it enables actionable insights for enhanced PageSpeed Insights.

Optimize:

With absolutely no-code editing required, setting up A/B tests to achieve the needed site optimization. 
One can significantly contribute too towards enhancing the performance throughput of this plugin as a tech-enthusiast via a suitable pull request in the GitHub repository for the said plugin. 
For detailed information, kindly avail reference to Google's official blog.