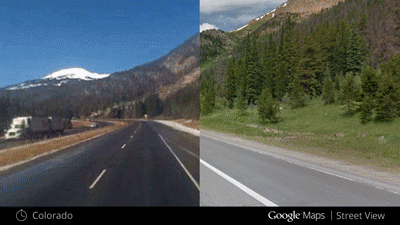 Google street view now let you go back in time and enjoy the past images of different places with new clock tool. Currently the Google maps only show the latest images but from now onwards you would be able to view the past photos of several locations by Google Maps' Street View feature.
In an official blog post Google states, "Now with Street View, you can see a landmark's growth from the ground up, like the Freedom Tower in New York City or the 2014 World Cup Stadium in Fortaleza, Brazil. This new feature can also serve as a digital timeline of recent history, like the reconstruction after the devastating 2011 earthquake and Tsunami in Onagawa, Japan. You can even experience different seasons and see what it would be like to cruise Italian roadways in both summer and winter."
To see the past images you need to use the time travel feature of Google Maps. You just need to go to the Street View interface in Google Maps. There you will find a clock icon on the top left hand side. Clicking on the clock icon will open a preview of the image which will have a timeline below it to see the older image.
It allows you to view the past street view images from as far back as 2007. this feature is only available in web version of Google Maps for now.