Over the years, competition in the application market has become increasingly fierce, and companies have found it challenging to find themselves in a sea of competition. Utilizing a complete application launch strategy is basic to preparing for an effective Launch and a fruitful situation in the application market.
Using a comprehensive application is critical to paving the way for a successful launch and a successful position in the application market.

Once you enter the pre-release phase of the application life cycle, you should turn your attention to marketing and planning. This part of the process is critical to the success of your mobile application.
Pre-Launch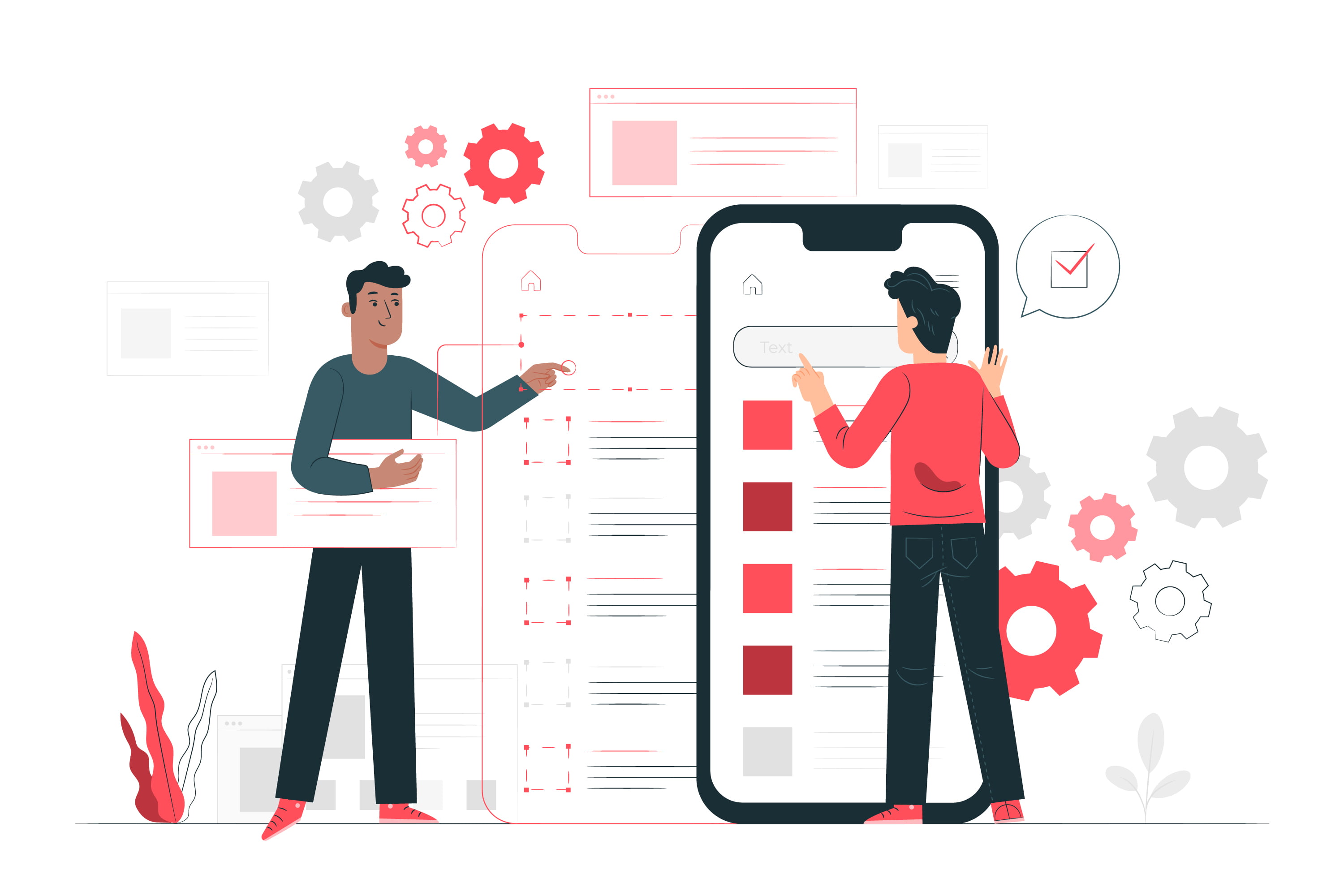 1. Conduct Market Research Between Your Users and Competitors
Market research is the most important first step in developing an application, as it can determine if your product is in demand and show your opportunity to differentiate yourself from the competition. Unless your application concept is very specific or very unique, chances are you will find a similar application on the market.
From teenagers to digital nomads, every audience has different needs, usage, and consumption patterns. You need to address these factors in your marketing message to attract users.
       When evaluating a competitor's app, consider the following questions: 
 How does the competitor's app work in the app store?  
 What are competitors' application success stories? 

 What mistakes did they make that you can avoid or improve upon? 

 Why do people want these applications? What apps are missing? (See app reviews, blog posts, etc.) 

 How do you market to customers? (See screenshots, icon design, and description) 

 Is there a gap in the market? 

Does your application add something unique to the market?
2. Start marketing your application Early in the market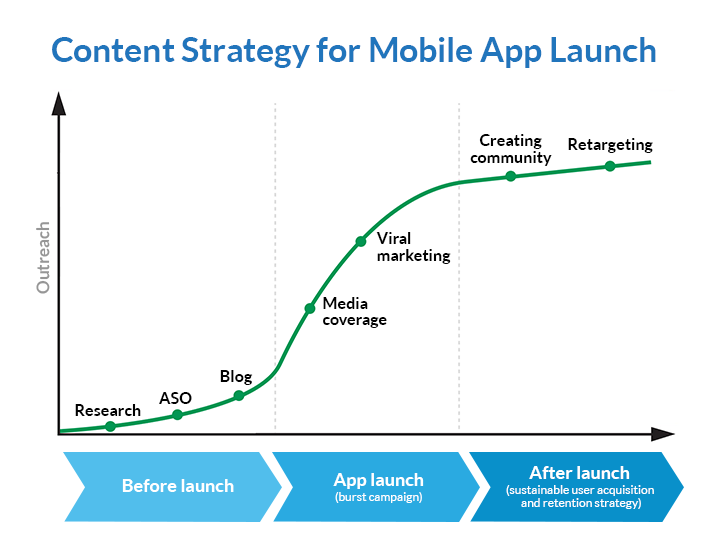 To muster early support:

Contact friends, family, colleagues, customers, and peer groups 
Find potential users as soon as possible and incorporate them into your marketing.
3.Create a Web landing page
The web landing is the center of the pre-launch marketing strategy. Expand your online presence by hosting content and presenting your application to potential users in a variety of ways: 
Publish expert

blogs,

create value for visitors,

generate

network

traffic and

promote

search engine optimization (SEO).

Through

gifts, etc. Interactive

application

for marketing

campaigns, contests or quizzes.

Encourage email

logs

to enable drip marketing (

it will

automatically

send

marketing

information

to

the user's

inbox).

 Create

a dedicated

landing page for each marketing

plan

(e.g. free demo

).

To

increase downloads

by

Website builders like WordPress and Squarespace are inexpensive

blog-ready

platforms that can be

up and running

in less than an hour.
4. In-App Analytics Implementation
Estimating and observing application commitment and use conduct through in-application Analytics can give important bits of knowledge into how to improve the client encounter and upgrade your showcasing system, protecting your application's future success rate. 
To further develop more conversions on your application and set better business decisions. Using application examination is the most ideal approach to find who your customers are, the means by which they attract your application, and why they mix. It can help you with recognizing segments of your application that drive most changes, similarly as uncover stages where change drops (consider online business applications). 
These pieces of information will help you with making better business decisions later on.
5. Give an In-App Feedback Channel
Nothing kills application development quicker like a low star rating – your application's perceivability and downloads will diminish if store appraisals are low. Consequently, store surveys ought not be the principal stop for client criticism or revealing issues. Making a simple to utilize criticism channel inside the application energizes correspondence and compromise with the client while forestalling negative public audits.

6. Conduct a Beta-Testing Mode
Beta testing is a critical step before launching an application. The main goal of beta testing is to allow real users to get a real experience of application performance. An in-depth understanding of user needs, application context, and pain points is the key to successful application development. Beta is used to find bugs, test interactions, and other implementation-based things, such as load time, which is why it is so important.
7. Set an App launch Date
Finalizing the launch Date It is important to choose a suitable release date for your application. Choose an app launch date with the specified goals. This will enable you to plan your development plans and marketing activities around the app launch date. There will be several things that need to be coordinated, so please keep a checklist for your release.
8. Utilize your social networks
Social media is an excellent platform to promote organic growth and application engagement. Promoting your app through social media channels allows you to advertise and drive traffic to your landing page and app store. 
You want to establish a presence for your app on major social networks beforehand. Set up your official social media page prior to the app launch to build brand awareness across all relevant platforms such as Facebook, Twitter, and Instagram. Use these channels and blogs to market your application and reach your target user community. Another way you can take advantage of social media is to integrate it into your application so that users can easily share and promote your application.
9. Localize Your App
Unsurprisingly, a worldwide market has greater potential than a regional market, So, it is important to ensure that your application supports globalization. Localizing apps for your audience may be a good business practice that needs you to feature appropriate resources to your software to make sure that a given country, locale, language, or culture is supported.
Post-Launch

10. Invest in App Store Optimization (ASO)
With so many applications on the market, it is very difficult to get the popularity of your application in the application store. But, just as you should maximize your SEO efforts to improve organic traffic, you can also use App Store Optimization (ASO) to do the same for your apps.
In the first quarter of 2021, there were 3.50 million apps available for Android users on Google Play, and about 2.22 million apps will be available for iOS users on the Apple App Store.
The goal of ASO is always focused on application downloads, but supplementary goals can include the following items:

 Increase brand exposure. 

 positive app reviews and ratings. 

 The most frequent and largest number of app reviews. 

 The audience's compromise. 

 Marketing channels are further diversified.
11. Use Paid Advertising
A paid acquisition can be expensive for continued growth; however, limited app release activities are a good way to generate initial awareness and downloads. Therefore, paid to advertise is an effective strategy that can provide your application with the necessary impetus to gain visibility and initiate organic growth in the first few days.

12. Monitoring application performance
Measuring and monitoring key indicators enable you to understand your users and their usage patterns. This information can determine where and how you can improve your application. For example, the analysis of an application can provide information about the popular "flow" of the application, as well as information about screens or problems that may cause the application to stop.
Please note that app analytics is not an isolated entity and must be integrated with all channels through which your brand collects data. Monitor your app store rankings, download growth trends, comment flow, comments, and social signals to evaluate your app performance and customer satisfaction.
13. Provide Regular App Updates
In an environment that changes and evolves so rapidly, being able to quickly iterate, learn, measure, and respond to user needs is critical to the success of an application. In order to provide a persistently popular mobile application, it must be continually developed and updated. Therefore, you must promise to release continuous updates of the application to fix bugs and launch features that will allow users to visit again.