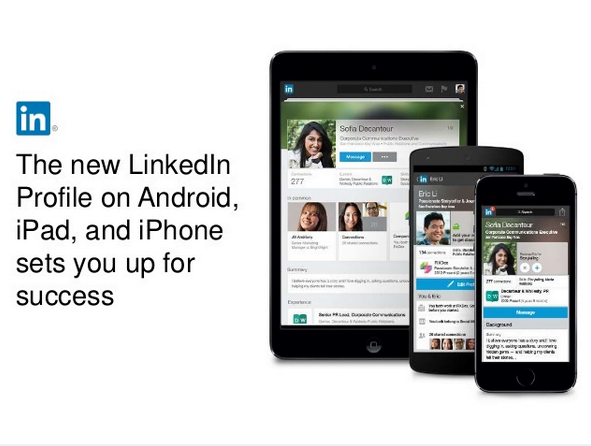 LinkedIn has a new look for its mobile site. It is renovating the profile of its users to help increase business contacts.
"Today, we're excited to share that our new LinkedIn Profile on mobile does all the above. Your LinkedIn Profile is your professional identity of record. It's also the heart of LinkedIn. Your new profile helps you tell your story to other professionals when they're looking for you on the go. If you aren't a master storyteller, we'll let you know what's missing and how you can add it. You'll also enjoy discovering new insights about other professionals with the "in common" and endorsements sections we added." the company said in a blog post.
The look and feel of new profile is more visual. Profiles now show an "in common" section that displays contextual information about experiences and connections you share with other users. "In common" section in revamped app may display whether you and your connection went to the same school, college or office etc.
The new profile will display basic information about the user including Name, company, job title etc. and it will also list down the mutual connections. This will give the users a feeling for shared interests and connections with a person before you meet them. You can also update the information directly from your handheld device.
The app also includes 'Insights' feature which will sends you an alert whenever someone looks at your profile, according to Business Insider reports. While viewing your own profile page, the app will displays certain tips on how to make your profile more interesting.
The redesigned profile will initially be available only for iOS and Android apps. It may be available for web later on. "We are launching this new profile experience on mobile first, not just because 43 percent of you are visiting us via mobile, but because thinking mobile forces us to innovate and radically rethink, focus and simplify what's most important." the company said in a blog post.