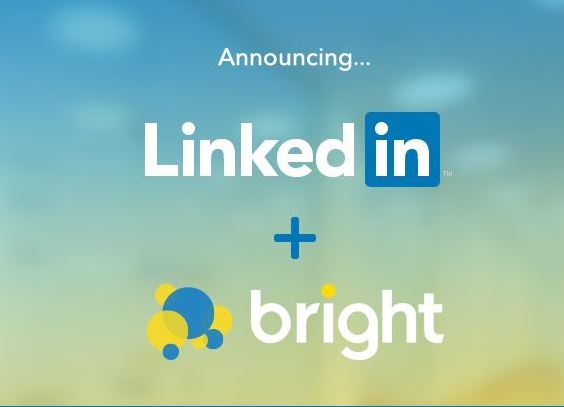 Image : http://www.bright.com/
Recently LinkedIn has acquired a job-search startup Bright.com for $120 million for matching job hunters with employers. Bright is launched in Feb 2011 and has already posted almost 60 millions job applications for job seekers.
"What LinkedIn does best is connect talent with opportunity at massive scale," said Deep Nishar, LinkedIn's SVP of Products and User Experience. "By leveraging Bright's data-driven matching technology, machine-learning algorithms and domain expertise, we can accelerate our efforts and build out the Economic Graph."
"We're excited to join LinkedIn because the company shares a similar vision and is equally obsessed about using data and algorithms to connect prospects and employers," said Eduardo Vivas, who founded Bright in February 2011.
In a statement LinkedIn said, all the members of the Bright will be joining LinkedIn in coming days but it is still not clear whether the Brigt's founder will be joining LinkedIn team or not.
Bright uses the algorithmic approach towards job seekers and matching employers. With the acquisition of Bright.com, LinkedIn is planning to take advantage of Bright's data driven approach for connecting employers and job hunters. LinkedIn's VP of product for Talent Solutions Parker Barrile said in a blog post "As we add more job listings over the next several years, Bright's powerful matching technology will be integral to ensuring that the prospects we suggest to employers and opportunities we surface for prospects are increasingly relevant".
Bright's users will be able to access their existing personal data on its website through February 28.