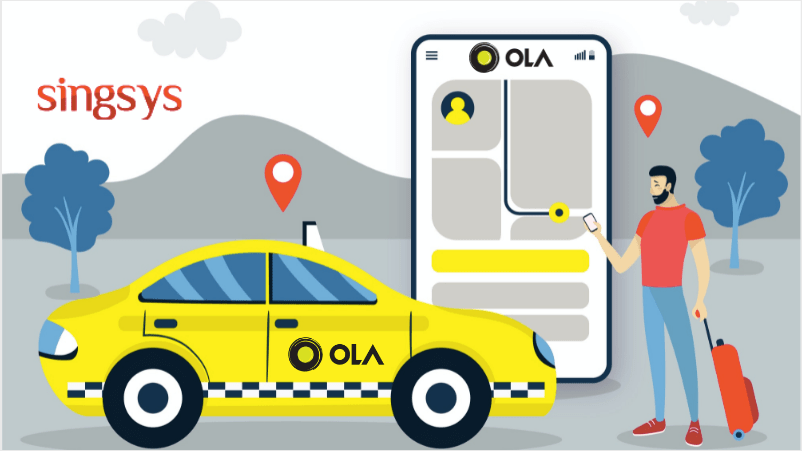 Many companies plan to develop an app like Ola to stand out in the cab sharing industry. But they don't know Ola's strong business model and business strategy. In this blog, you will understand how Ola started, their business and revenue model, and all about Ola Cars. 

 Ola started the on-demand taxi booking service by purchasing a fleet. Initially, they provided services over the phone, but as the digital industry developed, they moved their business to the Internet. They began to use the current two-way approach to meet the needs of drivers and consumers. 
 Taxi rental and ride-sharing services are booming industries today, which is why many companies plan to get apps like Ola. To escape traffic and long-distance travel, more and more people are turning to taxi services. Apps like Ola resonate with millennials because they want to travel easily and comfortably at the touch of a button.
History of how Ola Started?
Ola is a pioneer among many cab-hailing apps, founded by Bhavish Aggarwal in Mumbai, India in 2010. They have developed a mobile application technology platform that connects customers and drivers on one platform to provide maximum comfort, convenience, and transparency compliance. In addition to on-demand taxi services or car rental services, Ola also provides auto booking services, and we can make reservations through the same mobile application that we use to book cabs.
The main purpose of developing such an application is to help users reach their destination safely. With just one tap, you can travel and reach your destination easily. In addition, they also get unique features that can attract customers to get more information through mobile apps and keep them. They created OLA apps for two mobile app platforms (Android and iPhone users).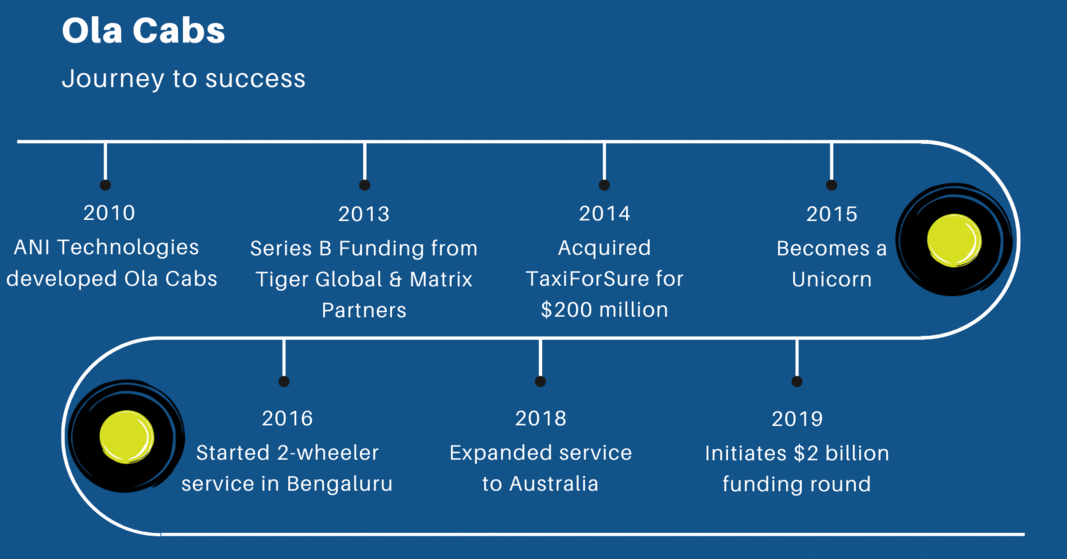 How Does An App Like Ola Cars Work?
We at Singsys will give you a full understanding of Ola's Cab business model and Ola's revenue model. This will give you a good understanding of what could be included in future car rental applications, such as Ola or the cabs business. 
 In starting, Ola entered the market as a taxi rental fleet business. They bought a fleet and hired drivers. Customers must call Ola's call center to reserve a taxi, and the taxi will be delivered to their favorite time and location. 
 They discovered the enormous potential of the Internet market in 2015 and moved their entire business to application-based aggregation. Through this move, Ola began to act as an intermediary between consumers and taxi drivers instead of buying his fleet. Ola uses a smartphone app to connect drivers and passengers.
Here is a Ride-Sharing and cab booking Application step-by-step explanation of how the Ola app works:
To book an ola cab, the user's ola app. First, install the Ola application. If you are an Android user, please go to the Play Store and install the Android Ola app.

After the user logs in, there is an option in the mobile application to quickly identify the user's location via GPS when logging in.

Users will request cabs based on their needs and the availability of the cabs. The user will have different cabs such as Mini, Micro, Share, Prime Sedan, Auto, Rents, and Outstation.

The Ola India website will provide you with the fare based on the Ola cab fare calculator.

The driver will confirm the itinerary with the help of the Ola driver app. If the driver has an Android device, he needs to download the Ola Driver App.

After confirming the trip, detailed information will be sent to the nearest driver.

Drivers can accept or refuse to travel at their own convenience. If he refuses to travel, he will automatically pass the trail to another operator.

 If the user accepts the itinerary, it will provide the user with an approximate time of arrival. The user can also check where the cab is.

 After the trip, you can choose to pay the fare in cash or non-cash. You can pay the fare when booking a taxi.

 After the ride, the Ola Cabs support team will ask you to rate the ride experience of a specific taxi driver or owner.



This is how Ola cab's business model works, and if you are planning to build an application like Ola, you need to take these above pointers into Consideration.
The Important features which determine the Cab booking application Just like Ola:
The Complete cost for creating an application like Ola will depend on the various features and functionalities of the application. Now, let us look at the following important features:
 Application Design: 
 Good design plays a vital role in the success of your application. The cost of developing an application like Ola also depends on the design of the alternative Ola application. 
 Compared with the basic design, the cost of an excellent design is very high.
Its convenient user interface attracts more users in an easy way to interact and make it easy to use. It takes approximately 8-10 weeks to design the user interface, wireframe, and user experience
Sign-up & Personal Profile:
 If you plan to develop a Cab booking application, it is better to opt for the pre-sign-up process. It can be done using various methods, such as the mobile phone number and the social media platform Facebook. 
 After sign-up, you need to update the user profile by providing the address, Gmail ID, etc. 
 To integrate this function, it takes approximately 2-3 weeks
Google Maps 
It is essential if you are planning to develop an application like Ola. It can help users and drivers easily navigate the process in real-time. 
Reserving an app is easy, but behind the scenes, the cost and time (6-8 weeks) will be high. Since it takes a long time to include this feature, the cost of developing applications like Ola can be a bit high.

Notifications & Communication:
Push notifications will be used to provide regular updates for user security and privacy. General text message (SMS) communication for users helps them better understand their rides.
Payment gateway: 
 We can pay the driver in cash or cashless from the (Ola wallet). Could you think about how Ola charges? 
 It totally depends on the number of kilometers, the lowest rate, the cost per minute, and the waiting time.  Taxi application development costs will depend on geographic location.
There are a total of 9 types of vehicles in ola to choose from Micro, Mini, Sedan, Share, Prime Auto, Rents, Outstation, and Lux​. There is a wallet integrated with the Refer and Earn section, which allows you to share the app among your contacts.
Final Remarks 
 The company has benefited from operational diversification. All of these revenue streams help the company increase revenue and attract people to its main business area, which is the cab booking services. 
 Ola now has the largest market share in the country. In addition, the company's revenue has increased tenfold in the last four years. As a result, it has become the largest provider of on-demand taxi booking services in India. 
 If you want to develop an online car booking and car-sharing application like Ola, you can contact Singsys, a competent website, and mobile application development company. We have a group of talented developers who will provide the best taxi booking service application to maximize the return on investment.