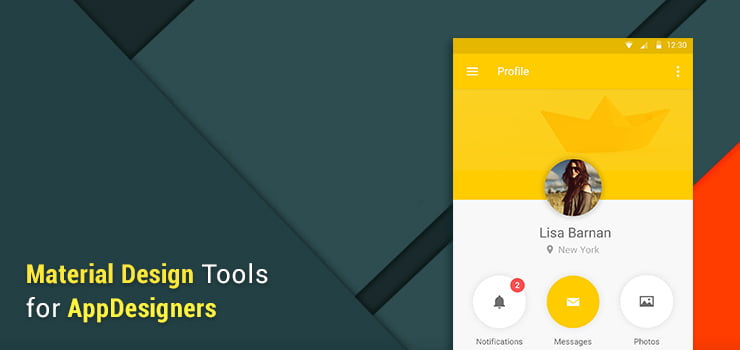 Designing is all about discovering which maintains a balance between form and function. App design very particularly represents the idea behind designer app development. Material design by google is the type of design language to build effective mobile apps. These tools are accessible by Google's material.io link. Let us have a brief look at these.


1- Gallery
The design is a very collaborative process that requires the involvement of multiple designers. It is quite important to keep all of them in touch so everyone has a complete view of the on-going process. Google's Gallery tool enable designers upload different versions of app online so it can be shared with other members. Here they can express their views or concerns regarding app design. This dynamic conversation among designers creates a user friendly app.

2- Stage 
To initiate advanced digital experience Stage tool by speeding up the prototyping process enables app makers to test their app. This tool can control the visibility of app along with its elements.  This tool is crucial behind a dynamic app building experience.

3- Remixer
This tool allows designers to refine elements of the app prototype. It enables them to modify animation timing, UI design, color palettes that too from computers as well as mobile devices. This is a must have tool designers who want to change their app on the fly. This tool basically makes an app upgradation a portable process.

4- Resizer
An app is can be used by a user in multiple manner like it can be accessed via VR or smartphone, He can use it on technology that suits him best. This means app need to be accessible to all. With its material design Google will offer guidance regarding several breakpoints, responsive grids, surface behavior and UI patterns. This tool is useful for testing how the app responds to material designs breakpoints.

Material Designs offer multiple benefits like the user interface of an app is sleek. It employees flat and light objects. It requires only a few colors to brand an entire application. Material design can easily brand the applications developed.