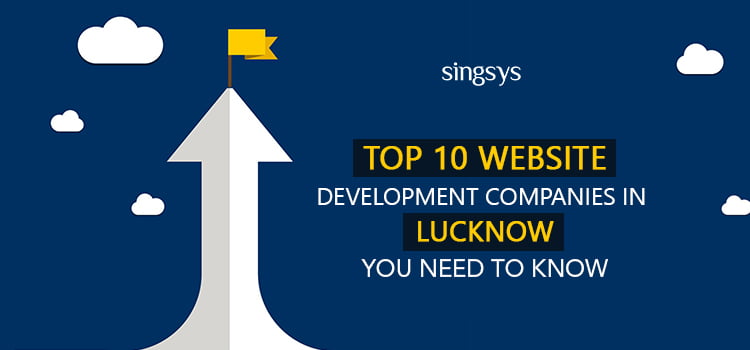 Be it an e-commerce giant or an aspiring retailer, web applications have helped everyone to boost their business in the online arena. The internet penetration rate and its affordability have paved the path for success of the business and resulted in rising of website development companies in Lucknow.
Why wait with your awesome website idea what if somebody else gets it developed before you especially when there are so many web app development companies ready to serve you with best in class website development services.
Web developers at these top website development companies leverage best coding standards and cutting-edge technologies to develop best in class custom website design that is inline with your business objectives and serve as a platform to grow your ROI by extending your reach to the target audience around the globe.
Based on deep analysis of various parameter below is the list of top-notch website design & development companies in Lucknow.
Singsys is a leading IT firm in Singapore with a strong team of 200+ developers and designers for delivering custom web application by leveraging cutting edge technologies and latest industry trends.
They have 10 years of experience in implementing their technical expertise into the development of enterprise-grade web apps using user first approach. They develop highly functionalweb apps that play the key role in the growing client business ROI and take client ahead of their competitors.
High-end custom website design and development services are provided by Singsys. They are skilled in choosing the most appropriate platform and CMS for business-friendly website development. Their focus during development is on ensuring healthy end user experience by making the website visually appealing, load quickly, hassle free navigation experience and fully responsive website.
Singsys is well-known for Quality in the industry, since their founding in 2009.
Their portfolio is available for here.
Approach Singsys to Approach your Customers
Foundation year: 2009
Company size: 200+ employees
Specialty: Mobile Application, Website Development, eCommerce Store development across multiple industry verticals ranging from Law to Logistics, E-commerce to Education and more.
Omni-Net Technologies develops highly functional and futuristic IT solutions including Website Design and Development, Data Digitization, Processing and Website Designing Solutions.
Their strong team of software engineers, computer professionals, web designers & web application developers, innovative artists and technical writers display a great sense of professional bonding to be recognised as a complete one-stop IT solutions provider in Lucknow
Foundation year: 1996
Company size: 51-200 employees
Speciality: Website & Portal Development, Software Development, Mobile Application Development , Content Creation , Data Digitization & Processing, Hosting Solutions , Hardware Solutions , Training & Placement, Search Engine Optimization, Social Media Marketing , Payment Gateway Integration , and SMS Gateway Integration
Prosix Infotech Pvt. Ltd, previously known as Prosix Softron Pvt. Ltd., is one of the oldest was established IT firm. It is passionate about providing best in class web application development services. Their technical partnership with Microsoft, Oracle and IBM is also a determiner that qualifies them to capture a spot in our list
Foundation year: 1996
Company size: 51-200 employees
Speciality: E-Commerce web Handling, Web Designing & Development, Website Maintenance, Mobile Application, Seo & Digital Marketing
STPL is providing services since 2004 which is a CMMI Level 3 Appraised and an ISO 9001:2008 offshore software development company. They boast of highly qualified IT experts who expertise in meeting challenges of its global clientele with innovative and affordable web solutions in different industry domains.
Foundation year: 2004
Company size: 51-200 employees
Specialty: Android Application Development, iOS Application Development, Mobile Application Development, ASP.NET (VB NET & C#), PHP (LAMP), PHP Zend, PHP Nuke, Real Estate Solutions, Social Networking Platform, Custom Application Development, and Quality Testing Services
Medma Infomatix came into existence on 29 December 2005 and being the oldest web app development company there are more than 250  e-commerce websites developed and successfully launched along with support for mobile devices. They focus on ensuring the best solution is provided in form of a custom website after in-depth research and analysis of client requirement.
Foundation year: 2004
Company size: 51-200 employees
Speciality:Open Source Technologies, Magento, Android, iOS, OpenERP / Odoo, eCOMMERCE, OrangeHRM, Hadoop, R, Apace Spark, IT Consulting, Big Data & Analytics, HTML5, Ruby on Rails, Artificial intelligence, Natural Language Processing, and Magento 2
CEDCOSS, started its services back in 2010 by co-founders Himanshu Rauthan and Abhishek Jaiswal is now a leading solutions provider has mastered various cutting edge technologies  to refine user experience through different IT solutions including Website design and development services.
CEDCOSS is recognised in delivering highly functional digital solutions that have triggered their client success and let them have a competitive edge over their competitors.
Foundation year: 2010
Company size: 51-200 employees
Speciality: php, Magento, Android, and IOS
They expertise in delivering a solution using the various technology like PHP,.NET, Java, Python, Ruby, and more. The motive is to extend the technology to every needy person such that nobody skips the technology.
Foundation year: 2014
Company size: 11-50 employees
Specialty iOS, Android, Windows, app development, website development, software maker, application maker, java, php, json, Iphone app, dot net app, phonegap, native app, custom mobile app, and best mobile app development company
This company works for every business size ranging from individual and startups to enterprise. They develop web solutions in various industries like Education, Gaming, Banking & Finance, Manufacturing, Legal, E-commerce, Logistics, Healthcare, Retail, Hospitality and more. Their expertise in cutting-edge technologies and the highly experienced team is key in developing world class web solutions.
Foundation year: 2008
Company size: 51-200 employees
Speciality:iPhone Development, Android Development, iPad Development, Web Development, Amazon Web Services, Ruby on Rails, PHP, Game Development, Amazon Web Services, Big Data, Startups, Internet of Things, Node.js, Python, Virtual Reality, Augmented Reality, and Predictive Analytics
Vortex Global Services is a Web and Software development company with focus on providing cutting edge web solutions to small and medium enterprises.
It has emerged into a full-fledged IT company with clients from every part of the globe
(17 countries).They have exhaustive experience in developing websites  for SMEs to to established enterprises.
Foundation year: 2012
Company size: 51-200 employees
Specialty: Web Design & Development, Online Software/Applications Development, e-Commerce Implementation, Internet Marketing, Mobile Websites, Android Apps, and Hybrid Mobile Apps
Lucid Softech IT Solutions: A name renowned for providing top-notch services for web development, web design, search engine optimization and every imaginable service relating to website development and internet marketing. With a commendable experience of 15 years in the turf of software development, the company has been constantly on the move to offer utmost gratification and quality services to the clients across the globe.
Foundation year: 2010
Company size: 11-50 employees
Speciality: Joomla Development Services, Xcart Development Services, WordPress Development Services, Drupal Development Services, Opencart Development Services, Search Engine Optimization Services, Social Media Optimization Services, and Magento Development Services.
Hopefully, this comprehensive list of best of the best website development & design companies in Lucknow will help you choose your reliable IT partner to get you web application developed and enable you to target your audience