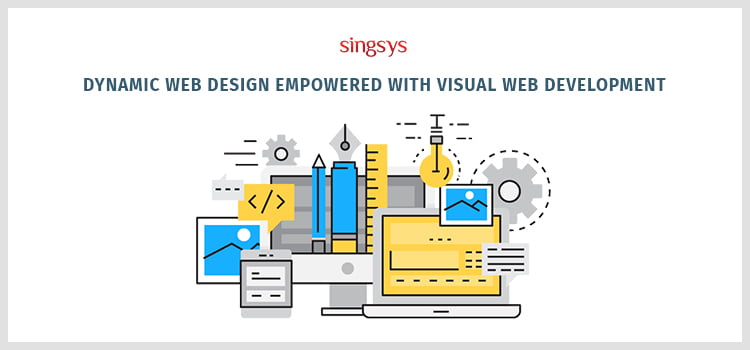 Web design has witnessed a revolutionary paradigm shift in last decade and  JavaScript was behind providing a dynamic website experience. Mostly Designers create mockups that reflect how should a website look like and then its the job of programmers to grab the vision and motive behind mockups and implement it in the web application development process.

There is no specific downside in this process but there is room for improvement. Visual development is the new buzzword in web development which holds the potential to enable better communication between the programmers and their designers.
Visual Web Development concept will lessen the gap between the designer and developer and help in building website quickly. It is very hands on concept so it will be easy to stick to real vision of designer. It enables designers to design with the code than creating a representation. This approach enable the creation of dynamic websites using the drag and drop system in which the code is built in the background upon introduction of new building blocks.

Although it might takes several years for visual web development to be mainstream but it is really interesting to view where it is heading and companies like Webflow have realised how this could be turned into next big deal in the arena of web design and development.

A decade from now most of the web and software application will be developed without code. The software development process will continue to evolve to a stage when apps will be built on the apps and software will be developed with software. As far as coding is concerned it will be limited to coding the extensions that too using the visual tools.

About Sing Sys Software Services: It is an established entity in continuously expanding sphere of mobile, web and e-commerce solution development. Headquartered in Singapore with its offshore arm in Lucknow. The Sing Sys is hub of certified developers who are passionate about leveraging the industry trends and implementing it to best in all the projects. We implement cutting edge technology and strategic expertise to design custom mobile, web and e-commerce applications to engage customers in this highly dynamic and diverse environment.
You may be interested in following