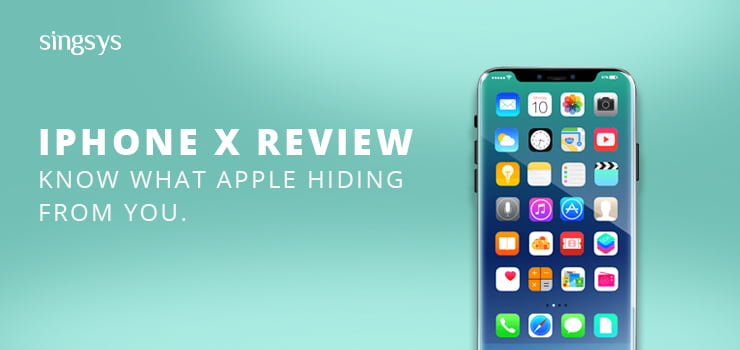 The iPhone X is the coolest redesign in Apple's smartphone legacy. Apple removed the home button from iPhone X  and the latest camera technology implemented in has helped Apple to initiate innovative applications. Now these 2 features are known to everyone but what is missing is the underlying exciting features that are not known to majority of iPhone lovers.
1- New and exciting flashlight shortcut
Apple smartly took the advantage of extra space available at  the edge-to-edge screen for adding a default flashlight shortcut at the bottom left side. This feature will contribute to smooth experience  of Apple fans. On pressing and holding it for a while will put on the flashlight icon and it will turn on.
2- Access Siri without voice command
Simply long press the side button on your iPhone X to access Siri without the need of saying "Hey Siri".
3- Enable the 4K video recording
The iPhone X is capable of shooting in 4K but by default the camera will record at 1080p only. Now on order to shoot a 4K video. Visit Settings> Camera> Record Video and choose 4K along with the frame rate you want.
4- Record the screen
Now you can simply add button in the control centre to record your iPhone screen and doing this is not a time consuming task. Follow the below steps to enable it.
Visit the Settings > Control Centre > Customise Controls and add Screen Recording.
Upon hitting the Screen Recording button a count down three seconds prior to recording your device activity will begin. In order to stop tab the red button appearing on the top left corner of screen as well as save the video inside the photo app.
5- A quick Inverted colour display
Well iPhone X display is quite fantastic and there is also a way to enable quick access to an inverted colour display. This will make the text easily readable as text will stand out pretty amazingly on black background.
You can do this by navigating to Settings > General > Accessibility and scroll down to Accessibility Shortcut. Tap on it and select Smart Invert Colours.
To switch between the regular view and the dark mode (here whites are black and blacks are white) triple tap over the sleep/wake button at the side of the device.
6- Use Face ID for all or none
This flagship feature is really helpful in securing your favorite device in all possible manner. Apple claims Face ID to be far more advanced than Touch ID. There is also the flexibility to use Face ID for  options of your choice  and rest can be secured with password.
Singsys is an established entity in ever expanding arena of mobile, web and e-commerce solution development.

A user-oriented solution on cutting edge technology to engage customers or boost your brand to eventually edge out your competitor and realize the potential and importance of  latest online business solution in various domain to ensure stability and rocket sky the ROI.
Singsys boasts best-fit developers, designers that were key to partner with multiple Fortune 500 firms to deliver industry oriented web, mobile and e-commerce solution always
You may be interested in reading :