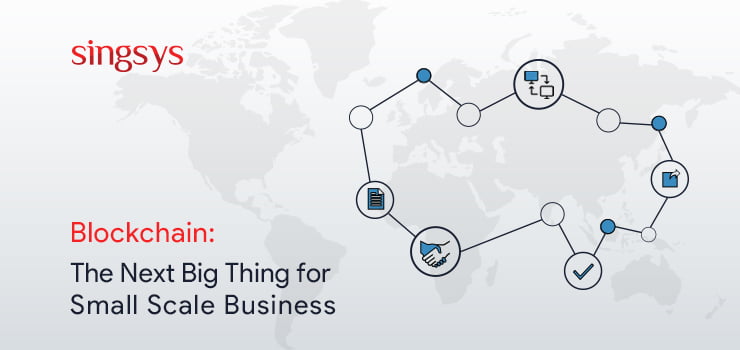 The blockchain is an amazingly fast and secure way to help small business create, verify, and process transactions without any middleman or authorized central authority. It's basically a decentralized ledger to records all transactions chronological order. These transactions include exchange of money, property, or whatever that required authorized access. Among the various benefits, blockchain offers to small-scale business few major ones are highlighted below
Amazingly Fast & Secure Payments and Money Transfers
As the starting of blockchain technology is linked to cryptocurrency. hence it makes sense that blockchain will ensure secure mode to send and receive payments. The blockchain is a very cost efficient mode that enables small business owners to transfer funds directly to anyone anywhere that too instantly and in completely secure manner. This is possible because there are no intermediaries that could possibly slow down fund transfer speed while it is transferred between several banks and charging horribly high fees.
Image credit: letstalkpayment
Smart Contracts
They refer to those computer programs which will automate various process and operations in business especially payments and actionable conditions on payment. With smart contracts, there will be no need to be dependent on intermediaries like lawyer or broker. This result in a transparent way of contract execution that will be immune to manipulation by any of the parties involved. These automated contracts are not only fast and amazingly cheap but are also far more accurate than the manual mode of form filling.
Currently Slock,  an Ethereum based internet of things platform, it has implemented it so that customers can rent anything from them simply by unlocking a smart lock after both parties agree on the terms of the contract.
Image credit: deloitte
Decentralized Cloud  Storage
Cloud has always been a desirable solution for every small-scale business owner. It is an excellent platform that ensures remote maintenance, management, and backup of data to allow users access files from any location via internet.
Mostly, cloud storage providers are centralized which provide them complete control of your digital assets but Blockchain is capable of decentralizing the cloud storage and the data is distributed randomly.This way  blockchain-backed cloud storage is a safe, fast and cost-efficient and that makes it ideal for small business owners.
Digital Identity
Every business online is prone to cyber criminals and nearly 43% of such attacks choose small businesses as their first target hence, security is always the topmost concern for them hence, it is very crucial to know who you are dealing with when doing an online transaction. Identity assurance is an effective way for e-commerce, online banking, digital form signing, process automation to ensure safety.
The blockchain is capable of efficiently managing and tracking digital identities as on behalf of public key cryptography it will offer digital signatures to ensure irrefutable identities. As only the right private key can validate an identity.
Blockchain has been designed primarily to serve as digital currency. However, it can also help the businesses in serving their needs. Trust, transparency and immutability have always been primary concerns for all small scale companies. Therefore, business owners can implement this technology in their business and make a mark in the industry.
Partner with Singsys to develop an engaging mobile, web and e-commerce application to turn your ideas into real working apps. Singsys has talented and certified pools of developers to design an affordable and attractive solutions for clients in compliance with industry standards using state of the art cutting edge technologies. Get Quote Now.