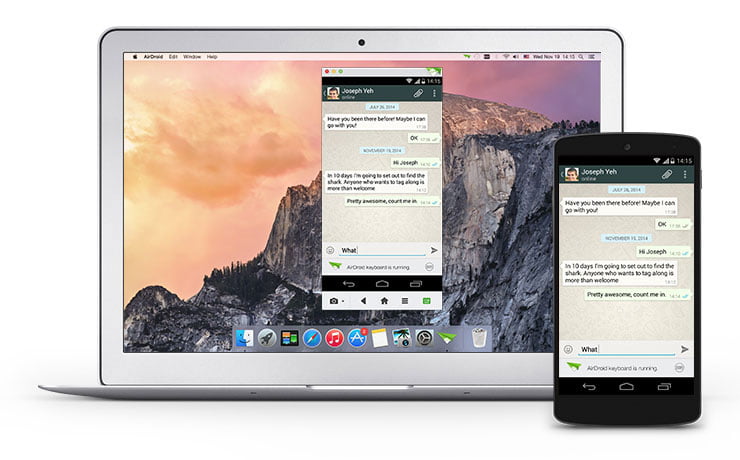 AirDroid has introduced an app for Mac and PC to manage your android device. It is the best way to manage your android phone from web.
Using AirDroid you can fully access and control your android phone from a PC/Mac and respond to calls without looking at the phone. You can also SMS on computer using the full keyboard, and mouse and stay informed of allowed notifications from your Android. This is a good way to manage your mobile communication through your PC.
AirDroid 3 is officially released as the company said in a blog post, "Three years ago, AirDroid released its very first version in an effort to manage your android device simply by a web browser without cable. After 3 years, many users really want more than that, one of the strongest voice is: I want to reply WhatsApp msg via AirDroid, I want to control my android device by mouse and keyboard. WE HEARD YOUR VOICE, we do.
With AirDroid 3, your multi-screen life is easy like never. You won't miss any important messages while focusing on your work. You could receive/reply SMS on computer, most importantly, you can put your android device under full control by mouse and keyboard, even without your phone with you."
The features in AirDroid version 3 are:
1. AirMirror to mirror the whole screen of your Android device to computer and interact with all the installed apps
2. Notification Mirror to get real-time alert of phone notifications from any apps
3. Call alerts and SMS notification
4. File transfer to transfer files from computer to Android device by a simple drag and drop option on local or remote connection
5. View contact and SMS list
6. End to End Encryption (E2EE) for all SMS and app notifications, contact data, account credentials etc. transmitting between AirDroid clients
The app is free to download for Android from Google Play Store. You can download the desktop client for Mac and PC on AirDroid's site. After installing the app you can easily access and manage your Android phone or tablet from Windows, Mac or the web for free.