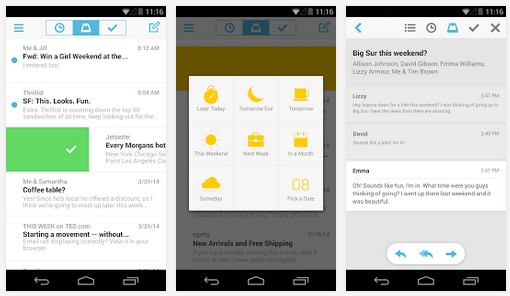 Dropbox Launches Mailbox For Android, launches Carousel with Auto-Swipe, Previews Mailbox For Desktop. "What makes me so happy is this family just got a lot bigger," CEO Drew Houston said from a media event in San Francisco.
Mailbox claims to give its users the ability to manage their emails in an effective manner. Yesterday the Mailbox team also announced that it was adding a new feature called 'auto-swipe' to the app which will allow you to archive an unwanted email and automatically archive similar emails you receive in the future.
"We set out to tame the inbox, and swipes and snoozes were a great first step. But the amount of email we receive daily is only increasing. We don't just need better tools for dealing with the mail we get, we need more control over what demands our attention in the first place," said the MailBox team. "Today, we're proud to announce a new service built directly into Mailbox that learns from your swipes and snoozes to automate common actions. Mute that thread you don't care about, snooze messages from your friends until after work, and route receipts to a list — automatically. We call this service auto-swipe."
Dropbox also announced a new app called Carousel. "We'd like you to meet Carousel: a gallery for all the photos and videos from your life. It combines the photos in your Dropbox with the photos on your phone, and automatically backs up new ones as you take them," the company said.
The company also announced that it is testing a desktop version of the app, Mailbox for Mac.
The app can be downloaded from the Android Play store here . The app will allows users to link their Gmail or iCloud account to Mailbox.