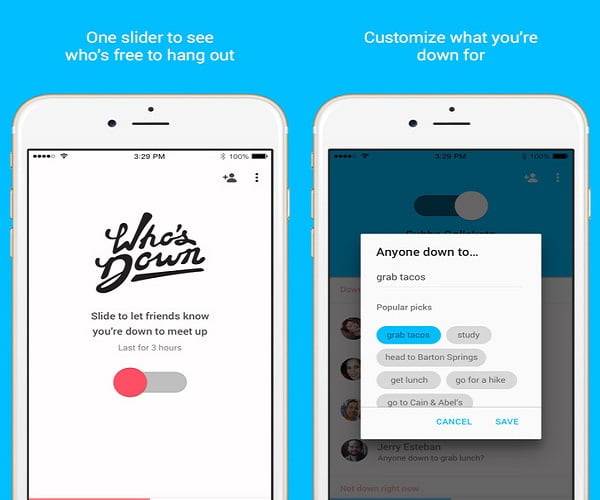 Today Google released its new app shows which of your friends are available to hang out known as "Who's Down". As you might be able to tell from its name, the app will apparently – once there are people who are actually using it – let you see which of your friends are free to hang out. Google's New App Releases for android & iOS to help friends hang out, making it easier for individual see if their friends are up hanging out.
It's an invite-only app that simply shows you whether you're "down" to hang out – presumably, once you have confirmed that you are indeed "down," your friends nearby will see that status and include you in whatever wonderful activities they have planned.
The Who's Down app was quietly listed on Google Play and the App Store over the weekend. The Android version weighs 5.7MB and runs on Android 4.0.3 Ice Cream Sandwich or later versions. The iOS counterpart weighs 16.2 MB and is compatible with iOS 7.0 and later versions.
First spotted by 9to5 Google, the app requires an invite before it can be downloaded from either app store. Users can sign up for an invite via the dedicated Who's Down website, where it asks for your email information and school name, indicating it is meant for teenagers.
As seen with the Who's Down screenshots on the two app stores, the app lets you toggle a switch to let others know if you are free to hang out. Sliding the toggle switch makes you available for three hours and lets you choose from a list of activities (automatic predictions) in which you are interested. Manually entering a name of the activity is also possible.
After your confirmation, the app waits if others are interested in hanging out with you or not. Once users indicate they are interested in doing the activity by swiping the toggle switch from their app and hang out with you, the app gives you a notification. You can then head over to the chat section to coordinate for the plan. As per TechCrunch, which claims to have got access to the app's iOS version, the chat messages disappear after 24 hours of last activity.
Who's Down app is said to resemble the Free, Shortnotice app, or Bang With Friends apps, which use roughly the same idea but were not able to gain much traction.