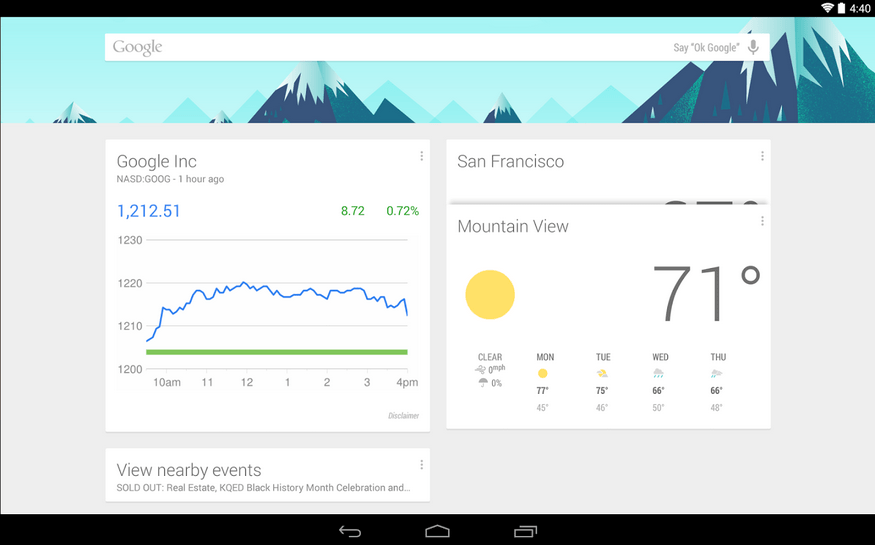 The Google Now Launcher is now available on all the android 4.1 and later devices which allows users to view upcoming appointments, weather report, traffic conditions, public transport and much more.
The Google Now Launcher can be downloaded from Google play store for all devices having android 4.1 Jelly Bean and later. Previously this tool had only been available for the Nexus and Google Play Edition.
The Google Now Launcher combines the features of Google Now search and assistant functionality with the launcher and users can get the Google Now launcher directly on their home screens and say "OK Google" to launch voice searches. Google Now Launcher is located on the left of the first home screen of device and is accessible every time with a quick swipe to right.
The launch also offers access to Google apps like Maps, YouTube, Mail and more. Google Now launcher has its own set of widgets and wallpapers.
Key Features of Google Now Launcher:
1. Google Now is available on your home screen.
2. On the home screen of the app you just need to say "Ok Google" to trigger voice input and then say your search query or tell your phone what to do, like send a text message, get directions, or play a song.
3. Faster search feature.
4. Easy access to your favorite Google products and services, like Gmail, YouTube, and Maps.
5. Larger viewing area.
6. Intuitive wallpaper picker that allow you to select any image stored on your device, or in the cloud.
See the video below: