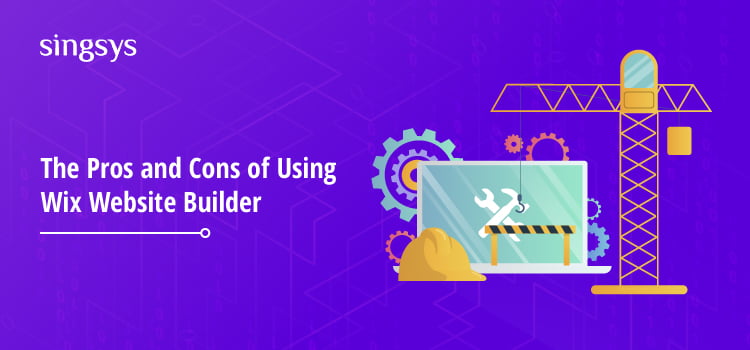 Creating a website for a naive is much more complicated. It takes a lot of time and effort, a huge supply of creativity, and extensive knowledge in coding. WordPress and Wix both are tools for building a website. But, here we are talking about the Pros and Cons of Wix Website Builder. Wix offers a platform where users can build their own websites for free or at very cheap prices.
But the truth is that no free website builder is ever free! You'll pay for it sooner or later when you realize your website platform isn't up to scratch and you need to move everything to another platform and risk losing your rankings or your site certainly disappears from Google because all Wix sites have been deindexed from the search engine.
The following are the pros and cons of Wix website builder, business owners should know about.
Pros of Wix:-
Wix can help in building a website for businesses, blogs, eCommerce, portfolio, etc. in just a few hours. Wix Artificial Design Intelligence (ADI) is intuitive and also creates backup points of the site for future restoration.
Easy drag and drop functionality helps one to easily design a website without any coding skills and the process is quick too. It is cheaper than hiring a web designer and free to use for everyone.
Wix contains predesigned high-quality templates that are decent enough to draw visitors. The templates are designed by top quality graphic designers. So you don't need to worry about designs, layouts and website structure.
Responsive design and optimized templates for mobile, desktop and tablets. It means the website adapts to the device whether it is mobile, tab, laptop etc. It changes to interface and content according to a device and opens accordingly.
After a feature Wix Turbo, recently introduced, it has increased speed up loading times – means sites now load faster than ever before.
You can use the free domain name for the website, with subdomain wix.com for the first year only. After that, you'll have to pay to renew your domain (at a typical cost of $12-16 per year).
You can also buy domain and web hosting at the same time when you create a website. You can also connect your own domain, if you have an existing domain then you can use it here.
It provides SEO tool and guidance for marketing websites that you can use to optimize the website for organic traffic such as from Google, Bing and Yahoo, etc. search engines.
All Wix sites have HTTPS and are provided with SSL certificates. Wix also offers support services 24×7 if you get stuck at something.
It provides site manager for site settings such as the domain, SEO, Favicon, Language and Region, Business info and social networking settings.
Cons of Wix:-
Wix is not very suitable for professional business as it needs to have a quality design, SEO coding, and professional features. It's important to build customer retention and this is only possible with a good quality website.
Wix is not perfect for large websites with more number of pages, because the navigation menu cannot accommodate complex substructures. If the site is for business purpose, one should take help from a web designer for more quality and visual aesthetics.
In the free version, you can't access all the functionality and features. There are limited features in the free version and Wix ads appear on every page & favicon in URL.
It's difficult to change the theme. You can't implement your own designs ideas if you want to custom unique designs with various unique user experiences. It's hard to give it a bespoke touch.
There is no way to export your data in Wix in case you decide to move to another platform. You have to manually copy paste every single piece of content and data to the new website.
The free website builder support desks are not great. Wix generally answers the "how-to" questions quickly, but things that are more complex can take days or weeks to fix.
Prices can be tough to afford for premium services and functionality for a fresher or students. Compared to other website builders, Wix is 20-25% more expensive with their paid plans, especially if you plan to use it for more than a few months.
The lack of customization is can become a problem for your site with a drag and drop platform. One can drag and drop items anywhere in the website pages, but it can be a hassle to get a design to look good enough and work accordingly. It takes much more time to design a site if you need perfection.
Wix provides access to an SEO Wizard that can help in SEO, but the techniques offered are a little behind the times. It covers meta title, meta description, alt image name, link to Google Analytics and Google Search Console and they are mobile-friendly. Although It has improved SEO by adding advanced SEO techniques like 301 redirects, etc., but it isn't great for the fancier stuff. It can be pretty fine when it comes to search results, but Wix doesn't excel beyond the basics. Hence, It will be a disadvantage to those who are looking at a long-term website effort.
Conclusion
Wix Website building software is among the most sophisticated but complicated tool on the internet. But just as you'd hire a carpenter to build the house of your dreams, it's worth spending every of your penny to hire a designer to build your website. If you want a really good website, you will need a professional to design it.