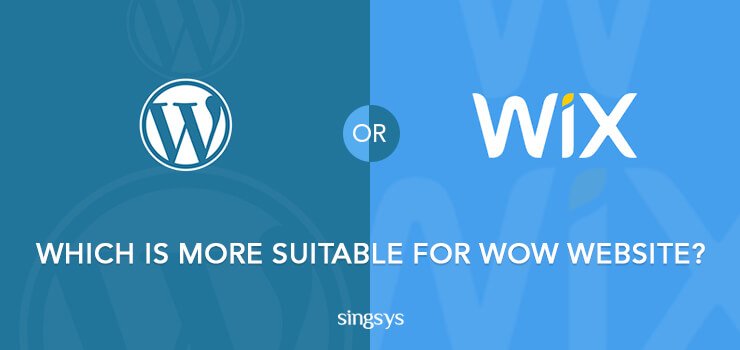 First thing that need to be considered while deciding which platform Wix or WordPress is more suitable as far as ease to build website is considered. WordPress might seem a little complex for many unless they are techie. It include tasks like signing up for a web hosting, installing WordPress and few plugins as well deal with a lot of settings. It provides a lot of flexibility but that is interpreted as complexity by non-tech persons. Wix is whereas, simple enough to be easily and quickly figured out by a kid.
Wix though is more easy to deal while building website but it provides very limited or negligible flexibility. You can surely create a very simple website using Wix page builder but it cannot be further customized. When its ease of use Wix dominates WordPress.
Now lets discuss the price factor that include domain name for which Wix charges a hefty amount of $50 a year unlike WordPress where you can avail this service with just $15 per year. Wix asks for $12 / month as Web Hosting charge and WordPress monthly charge for web hosting starts as low as $3-7 and depending upon the amount of traffic you desire to see at your website plans can be accordingly chosen. WordPress is an inexpensive choice from financial feasibility point of view, also WordPress will cost a lot less in long term.
Wix has few limited few hundred templates and plugins that you can install to customize your site unlike WordPress that make thousands of free plug-ins and templates which is maximum in comparison to any other platform with still there a facility to make up your new plug-in if you want to. The huge community of WordPress will never let you down when it comes to help with developing a complicated project. In majority of cases adding a few premium template and plug-in will do the job.
| | | | |
| --- | --- | --- | --- |
|  Factors |     WordPress.com    |           Wix.com  |            Winner |
|  Mobile Friendly |              Yes |              No |          WordPress |
|  Storage |             3GB |           500MB |          WordPress |
|  Bandwidth |             Free |             1GB |          WordPress |
|  Domain Name              Mapping |             Free |       $50 per year |          WordPress |
|  Domain Privacy      Protection |         $8 per Year |       $9.90 per Year |          WordPress |
|  Domain Name  Upgrade |        $18 per year |         $50 per year |          WordPress |
|  Template changing |           Anytime |          Restricted |          WordPress |
|  Drag and Drop |               No |       Yes( with issues) |          WordPress |
I guess above comparison chart has made clear that Wix is more suitable for website that is sort online brochure. If an individual  or an organisation is  really focused on quite long term online marketing or lead generation is your primary goal then opt for WordPress. WordPress offer great tools for content export and import.
Looking forward to respond to your queries and comment regarding your choice for website building platform.
About Singsys Pte. Ltd. Singsys is a solution provider that believes user friendly and industry ready solution to engage customers and boost your brand online results from a set of certified developers, designers who are expert in optimized utilization of the available resources to align client's idea into a mobile application, web application or an E-commerce solution.