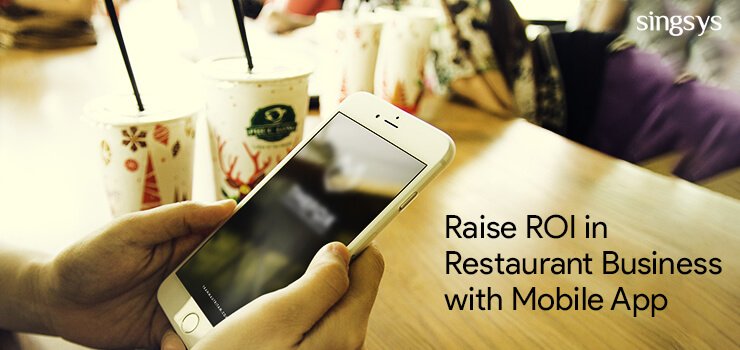 Mobile applications are key player in driving sales and promoting business online and same applies to restaurants. Irrespective of size of your business a restaurant mobile app will surely help in pushing it to next level. As apps are getting popular among restaurant owners it is driving more than usual and extra sales during weekends. It has enabled app owners to send notification regarding special discount on meals. It puts end to tiresome waiting in line to get food delivered.
These apps are linked to social media and enable customers to share their favorite food items with friends and family. User friendly apps increase engagement with users as well as boost brand awareness. Customer can not only order food but also provide their feedback with the same app.
An interesting feature of these applications is they provide you the flexibility to order well in advance and saves you from burden of ordering during your busy schedule.
Benefits to restaurant owners:
-An application provide more time to take decision and offer more option that a single restaurant can offer. This enables customers to spend more so eventually it benefits a restaurant owner.
-A restaurant is mostly chaotic and it is easy to misunderstood a complex order in such scenario unlike in an app where there is no point of confusion as user orders exactly what is printed in the application.
-Integrated customer loyalty programs ensure customers make regular orders.
-They can keep track of entire orders of all customers and offer customized meal at convincing price.
-Contact information of customers can be stored and used for promotion of discount and deals.
-Easily  interact and stay in constant touch with their customers.
-Inform customers about your latest restaurant news, updates and special offers;
-An excellent opportunity to show your customers directly, individually and instantaneously  how much you respect their taste and choice.
Feature to consider for a killer Restaurant App
1-Clutter free User Interface:
It is advisable to display what is required for good experience than to display entire menu. It will be more appealing if you stick to minimalist approach of showcasing simply the frequently ordered foods and most popular food items. This will give give a suave and refined impression of your service.
2-Payment:
Ensuring Payment is a pleasing experience for customer will keep them stick to their app as they find it easy and secure to pay with your app. Your payment structure will more or less be effected by your customer needs and requirements.
3-Updates:
It is an integral part of every successful app. It might be possible that your menu is same but might be your customers preferences take a shift. Customer might dislike a particular dish and an updated app will better cater to their new preference. On an average a successful app is updated around 20 times in an year to stay floating in the competition
Open Table, Burrp and  Foodpanda are few trusted app to get your food delivered at your door steps.
Looking forward to your respond to your queries and comment regarding mobile application for restaurants. In the meanwhile if you are interested in getting customized restaurant application that promise a delicious experience as well as most suitably fits your business model then simply, click here to get quote. We take responsibility to synchronize the strength of mobile app into your business models on behalf of our relevant experience in restaurant industry to outsmart your competitor and establish your digital identity with fully secure and easy-to-use app.
About Singsys Pte. Ltd. Singsys is a solution provider that believes user friendly and industry ready solution to engage customers and boost your brand online results from a set of certified developers, designers who are expert in optimized utilization of the available resources to align client's ideainto a mobile application, web application or an E-commerce solution.