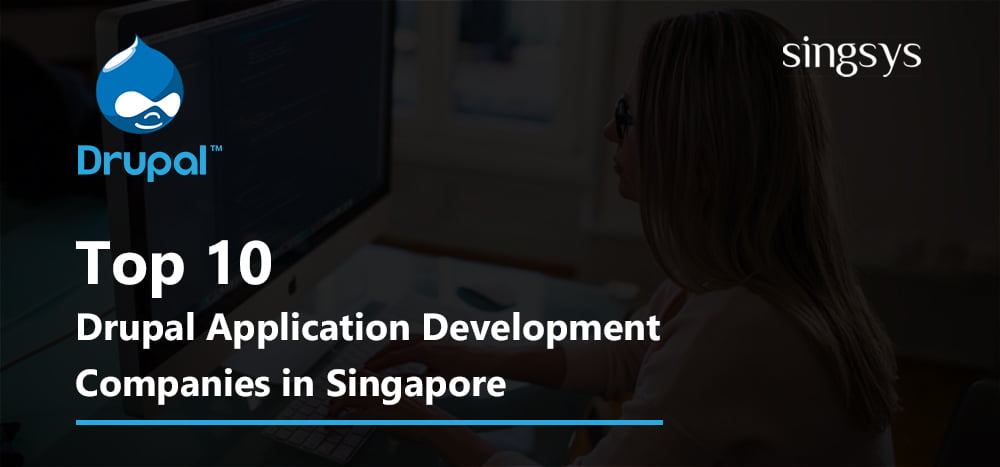 Drupal is an open source software application that includes a content management platform and website development framework. Drupal makes website development easy and possible even for those who lack technical expertise to design develop and manage their website. Some notable web application developed using Drupal are Government of Bermuda, The Economist , and University of Minnesota.
Drupal is highly Reliable, Flexible and Robust CMS with huge Community Support
Due to it ease of use it has a good reputation and huge user base in short span of time. Here is the list of top 10 Drupal development companies in Singapore.
1. Singsys – CMS Developers Proficient in Customising Drupal based Web Solution
Singsys is Singapore based IT solution provider with a decade of experience in developing bespoke web solutions. They provide full scale service covering implementation of Drupal theme to configuration of Drupal module. They have a team of highly skilled Drupal developers who successfully delivered world class CMS based on Drupal to help client's business growth.
Their Drupal services include below
Drupal Website Development

Drupal Template Development

Drupal Theme Development

Drupal Extension Development

Drupal CMS Development

Maintenance/Data migration
Brands like Olympus, Shoptiq, SinCo, SAPhIRE are there clientele. Apart from CMS based web application, Singsys is also one of the Top 10 mobile app development companies in Singapore.
Foundation Year: 2009
Company size: 51-200 employees
Speciality: eCommerce Store development, Website Development, CMS development, Mobile Application Development, Flutter App Development, React Native App Development, and Digital Marketing.
2. Octal Info Solution
–
Developing Enterprise Portals and Web Applications
Octal has a team of expert Drupal developers who are skilled with content types, views, menus, panels, user profile and custom module development in Drupal to add required feature and functionality for developing best in class Drupal based website.
Their developers religiously follow Drupal coding standards for ensuring highest quality standards. Their experience envisages plethora of industries including Clothing, Jewelry, Real Estate, Education, Healthcare and more.
Foundation Year: 2004
Company size: 51-200 employees
Speciality: Custom Software Development, Web Design and Development, Digital Marketing, Mobile Application Development, Microsoft Solutions, Enterprise Solutions, SaaS Development.
3. Openwave – Get custom-built CMS solutions that make Content Management Effortless
They believe in Drupal as an easy and cost effective mode for website development. That are fully scalable and feature rich. They expertise in leveraging Drupal's on-built features and add-on modules to meet their client web application requirement.
They have a team of trained drupal professionals who developed high complexity level drupal applications ranging from small & medium to big enterprise on world level on behalf of their impressive knowledge in the core drupal framework, drupal website development, and theme designing in drupal.
Foundation Year: 1997
Company size: 51-200 employees
Speciality: CMS Solutions, Ecommerce Solutions, Website Design and Development, Web Application Development, Virtual Reality , Augmented Reality, Payment Gateway Solutions, PHP Development, .Net Development, Mobile Application Development, Content Writing, Digital Marketing, Social Media Optimization, Search Engine Optimization, Blockchain Development, Hire Dedicated Resources, and Dedicated Development Team.
4. InnoMedia
–
Drupal Website Development
Innomedia develop Drupal websites that have very well designed code and support really fast website loading speed. They have comprehensive knowledge and experience in theme development, customization and installation of Drupal modules and are able to provide reliable and cost effective web applications on Drupal.
Another important point that make make them a strong contender among the top 10 Drupal application development company in Singapore is their web applications are Mobile friendly which passes several mobile responsive test.
Foundation Year: 2012
Company size: 51-200 employees
Speciality: Mobile Apps Development, Ecommerce Web Design, Website Design & development, Google AdWords, Search Engine
Optimization, Facebook Marketing/Advertising.
5. Syon Infomedia
–
Delivering Secure & Scalable Solutions
This company has got an experienced team of Drupal developers who are passionate about delivering feature rich and robust Drupal website. They implement most accurate methodologies for Drupal development to easily develop even highly complex projects.
Their solution are focused on engaging a large pool of audience with feature rich websites. They have a strong team of 70+ highly proficient IT professionals who develop result oriented and affordable business solution for clients across the globe.
Foundation Year: 2011
Company size: 51-200 employees
Speciality: Website Development, Mobile Application Development, SEO.
6. Above1 – Drupal CMS for Corporate Website
Above1 is Singapore based IT firm that leverage it Drupal skills to develop innovative and out of the box Drupal websites for clients to achieve business objectives and increase brand awareness.
Their clientele includes Mu Apparel, Golay, Purple Attic, SK Jewellery, Choco Express, Honey House, Unique Food & Wine, Zhongshan Mall, SuperBowl, EnGenius,Viva Madrid and more from fashion, food & beverage and technology industry.
Company size: 11-50 employees
Speciality: Content Management System, CMS, E-Commerce, Customized Web Portals, Online Store.
7. Vertexplus
–
Hire Drupal Developer
A global IT service provider in Singapore believe in delivering impressive technological solution across various industry domains. It is also an ISO 9001:2008 certified and STPI registered company.
Their strength lies in the notion of Creativity,Technology and Strategy ad it has fetched them some of the remarkable clients like Nokia, Borosil, Wipro, Digital Hospitality, Silver Wheaton, Teleflex and more.
Foundation Year: 2005
Company size: 51-200 employees
Speciality: Complete eCommerce Solution, Web Solution, Business Solution, Software Development, Website Development, Website Designing, Search Engine Optimization/Social Media, Online Marketing.
8. Fortunesoft – Drupal Development Company Singapore
Another great Drupal website development company in Singapore who implement their Drupal expertise to extend the functionality of an ordinary website. They believe in developing highly featured and responsive Drupal web application in below categories
Real time maps and social location apps, Customized search engines, Data Analysis & Mining, Music & Video Streaming, Interactive Dashboards, E-marketplaces and more.
They stand a chance to be one of the top 10 Drupal application development company in Singapore due to flexible development approach which ensures each Drupal website smoothly works on different platforms with same UI and user experience.
9. Ranosys
–
Drupal CMS Development Services in Singapore
Ranosys in Singapore provides full scale Drupal consulting, design and development solutions. Apart from Singapore, It also has strong presence in UK and USA. The in-depth and comprehensive knowledge of their Drupal developers is implemented to the best for client growth on account of custom Drupal based website and portals.
They implement agile methodology to develop Drupal websites and implement feedback by client instantly to ensure development time does not exceed promised time frame to client.
Their Drupal Application Development include following services
Drupal Portal Design

Drupal Multilingual Portal and Multisite Installations

Drupal Integration

Drupal SEO Assistance

Drupal Theme Development

Drupal Migration & Upgrade

Drupal Mobile Development & Customization and more.
Another interesting point about Ranosys is they provide hire Drupal developer model to better suit client requirement. They are also Drupal Association Organisation Member.
Foundation Year: 2008
Company size: 201- 501 employees
Speciality: CRM Solutions, iPhone Apps Development, Android Development, OutSystems, Salesforce, and Magento Commerce, Healthcare IT Solutions, eLearning and Education Solutions, Enterprise eCommerce Solutions.
10. Pixel Onion – Leading Drupal Experts in Singapore & Asia
Pixel Onion Drupal application development agency in Singapore support client in development and implementation of Drupal website. They collaborate with third party services to strengthen and update the skills of their in-house Drupal developers.
They are active in Drupal community with their participation at Drupal Camp Singapore 2013 on Growing Drupal Talents in Singapore. Among the notable Drupal projects supported by them are Avanser, and Registration Preview
The company in above list are chosen on behalf of their expertise in Drupal CMS and other important factors that segregate them from other as reliable Drupal companies in Singapore.
You may be interested in following: