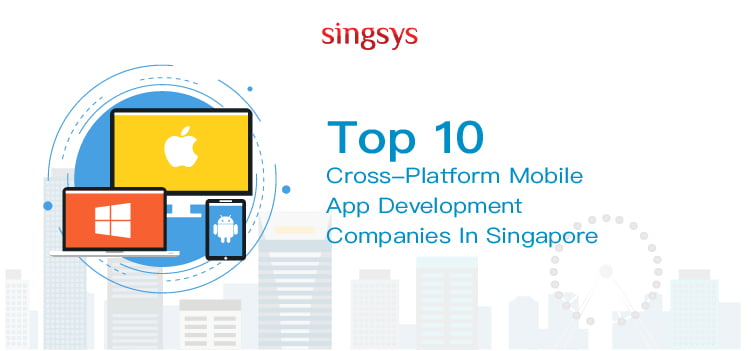 The cross-platform app development technology is great for mobile app development. A cross-platform app development result in significant decrease in development cost and time. Interestingly, a company need not hire mobile app developers who are expert in both Android and iOS development.
Cross Platform App Development – Code Reusability + Cost Effective + Less Development Time + Easy Deployment + More Market Penetration
This list of top 10 cross-platform app development companies in Singapore features those mobile app development companies in Singapore which have evolved advanced mechanism and have extensive experience in developing customised mobile apps for cross-platform (Android & iOS).
Expertise on advanced mobile frameworks like Xamarin, Sencha Touch and PhoneGap are leveraged to develop mobile apps that will work smoothly across different devices and platforms.They have high-end developers in Singapore who also have knowledge about web technologies like HTML5  JQuery Mobile and CSS3, and Javascript.
Well it is an unbiased list and it's my duty to provide best and updated information to readers. I found this time the top spot goes to two top companies Singsys and Frontline.
Singsys – Transforming your Mobile App Ideas into Real working Mobile Apps 
Singsys in Singapore being one of the expert in xamarin mobile app development has technically profound developers with expertise on cutting edge technologies to develop cross-platform mobile app even for critical projects without compromising on user experience and functionality.
Cross-platform mobile apps developed by Singsys simplify the client business. They have been also featured among most popular mobile app development agencies in Singapore by Yahoo. They are flexible to client in terms of resource engagement and provide three ways of engagement models to hire resources for app development.
Foundation Year
2009
Company Size
51-200 employees
Specialities
Mobile Application Development(Native and Hybrid), Enterprise App Development, React Native App Development, Flutter App Development,  Website Design and Development, Ecommerce Website Development, Digital Marketing, Logo Design, and Product Design.
Frontline – We Create User Centered Apps
This mobile app development firm was though established in 2010 but claims to be among the pioneer in mobile apps development with more than 15 years of experience. The bands who approached Frontline for mobile apps are PayPal, SAMSUNG, HP, YOKOGAWA, GOVTECH Singapore, Ministry of Education Singapore, Nanyang Technological University, NIE Singapore, and Inland Revenue Authority of Singapore.
They remain in sync with latest technological developments by implementing the latest technology.
Another interesting thing about them is they have been featured in some of the leading international media houses like ABC, FOX, NBC, The Business Journal. Yes they are very much highlighted in media due to their unconditional love for developing user-centered mobile apps.
Foundation Year
2009
Company Size
201-500 employees
Specialities
Mobile Strategy, UX for Mobile App Design, Big Data Analytics, Real Time Analysis, Android App Development, iOS App Development, Web App Development, and Ecommerce App Development.
Focaloid – Accomplish your business goals with our intuitive and feature-rich apps
Focaloid focus on helping client business grow, transform and eventually meet the business objectives. It is headquartered in Texas but spread over numerous location across the globe including Singapore.
Their process+people approach is quite unique and help them build best in class end-to-end Cross Platform App Development as business solution for clients.
An impressive factor that earns them a spot on the list most reliable companies in Singapore for cross-platform app development is, within short span of six years they have empowered various brands in various industry verticals.
Foundation Year
2012
Company Size
51-200 employees
Specialities
Cross Platform App Development, Sencha, iOS App Development, Android App Development, HTML5, PhoneGap, Mobile Apps Development, Analytics, Quality Assurance, Custom Web, Enterprise Mobility, Ecommerce, ERP, Cloud, UI/UX, Design, Engineering Design, Machine Learning, NLP, Blockchain Technology, CMS, IoT, BigData, and Artificial Intelligence.
Skylark – We Turn your Ideas into Reality
It is a Complete IT Solutions and Services providing company that strive hard not only to develop best in class mobile applications but also within clients budget that best suits the business model. They are meticulous and to provide nothing short of best possible outcome they believe in syncing project strategy during all phases of app development.
Foundation Year
1993
Company Size
51-200 employees
Specialities
Mobile app development, Web development, UI/UX design, Digital marketing, Predictable OpEx billing for RIMS, Periodic monitoring reports and expert analysis, Email / SMS Support, cloud and virtual infrastructure from one portal, Proactive 24×7 365 days monitoring and management.
Ranosys –  Experts in Xamarin Native Framework
It is Singapore based software firm leading the Xamarin mobile application development with an ISO 9001:2015 certification. Their team of highly skilled Xamarin developers expertise in creating stunning UI/UX designs by leveraging their skills in Xamarin to bind APIs with UI controls with help of Xamarin.iOS, Xamarin.Android, and Xamarin.Mac.  
Foundation Year
2008
Size
201-500 employees
Specialties
Magento Commerce, eLearning and Education Solutions, CRM Solutions, iPhone Apps Development, Enterprise eCommerce Solutions, Android Development, OutSystems, Healthcare IT Solutions, Salesforce.
Octal – Hybrid Mobile App Development
Another great global IT service provider with its presence not only limited to Singapore but also have a strong network in UK, USA, and India. The strict adherence to meet the quality standards enabled them to develop quality driven cross-platform mobile application.
Amazon Web Services, Microsoft, NASSCOM, Dun & Bradstreet, Drupal Organization, Acquia, and STPI are in the list of their notable clients .
Foundation Year
2004
Size
51-200 employees
Specialties
Enterprise Solutions, Mobile Application Development, Custom Software Development, Web Design and Development, Digital Marketing, SaaS Development,  Microsoft Solutions,
Blazedream – Creating Rich Applications across Multiple Platforms
It are not just another ordinary cross platform app development company in Singapore.
They implement agile development methodology for cross-platform mobile development projects. They boast about their developers capable of crafting agile and robust mobile apps that are tailored using Sencha, Phonegap, Cordova, Titanium and Iconic to meet all the requirements of the client.
Foundation Year
1999
Size
51-200 employees
Specialties
Website Applications, Web Maintenance, Database Driven Websites,  E-Commerce, Social Networking Sites/ Blogs, Web Development, Portals, B2C / B2B, Intranet, and Search Engine Optimization.
Hyperlink Infosystem – Startup Your Business With Top Mobile App Development Company
Hyperlink Infosystem is an award winning cross platform app development agency in SIngapore and implements innovative mobile app methodology transform simple ideas into highly profitable mobile application. They have been named Top Mobile App Developer for 5 years in a row since 2014. The reason behind justifying their spot in this list are below
Client Centric Development

Agile Development

Dedicated Development Team

Excellent Unconditional Support

Data Backups

Data Protection

Quality Deliverance

Enhancement
Foundation Year
2011
Size
201-500 employees
Specialties
Android app development, iPhone app development, Windows app development, Website development, Wearable App Development, Augmented Reality, Virtual Reality, Blockchain Development.
Mobiloitte – Solution That Satisfy Your Need
They offer high end customisation services tailored to meet clients business objectives to eventually help the business reach the target audience. One among the leading cross-platform app development company in Singapore it offers quality driven enterprise-level cross platform app development services by leveraging cutting edge technology for business growth and expansion.
Foundation Year
2004
Size
201-500 employees
Specialties
Titanium, HTML5, PhoneGap, Digital Branding, Mobility Solutions Consulting, iOS Apps Development, Biotechnology solutions, Enterprise Mobile Solutions, Android Apps Development, Salesforce Development, Drupal, Magento, WordPress, Mobile App Marketing, Mobile Game Development, blockchain development, Bots, Internet of Things, Home Automation, On Demand Solution.
QUAPE – Crafted To Perfection Mobile Apps
Quape is another quintessential example of most reliable mobile app companies in Singapore to get your cross-platform app developed. The reason I find interesting to put Quape in this list is they aim to give their client better exposure by syncing art and technology to develop feature rich cross platform mobile apps for business expansion and this strategy is deeply engraved in their core values.
Foundation Year
2004
Size
1-10 employees
Specialties
Mobile application, Web application design, Web hosting,  Graphic design, Search engine marketing, Search engine optimization, Website maintenance.
You may be interested in following: