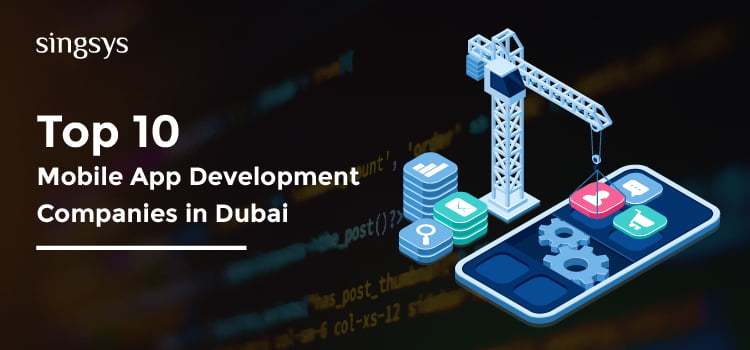 Are you looking for the Best Mobile App Development Company in Dubai?
Currently, mobile app users demand innovation & out-of-the-box ideas that provide the latest user interface experience, which requires a mobile application with the best features and new technologies such as GPS recognition, data capture, notification, video, mapping, and synchronizing data through platforms and many more technical feasibilities.
In today's modern era, the mobile application has become an essential part of every business. While considering the changing times, the most indispensable tool that customers cannot avoid is the smartphone, and creating an application is the next step for businesses to become a successful brand themselves. 
Here Are the Top 10 Best Mobile Application Development Companies in Dubai
Singsys–

Top Mobile Apps Developer
Singsys is one of the leading mobile, web, and eCommerce app development company in Dubai with a team of experienced developers who are dedicated to providing custom-built mobile apps on Android & iOS that solves the purpose of client business without compromising on user-friendliness and features.
Singsys, we value the diversity and the upcoming trends with the exclusive solution renderings across major business verticals for iPhone, iPad, and Android apps. We at Singsys have the resource pool that has gained enough experience to be able to develop effective Hybrid apps for our clients.
Foundation Year: 2009
Company size: 51-200 employees
Specialization: Mobile Application Development, Flutter App Development, Website Development, eCommerce Store Development, React Native App Development, and Digital Marketing.
2. Device Bee– 
Innovative Mobile Apps and Technology solutions
DeviceBee is one of the leading Mobile Application Development companies in Dubai. They have a team of an awesome team of engineers, developers, analysts, and tech geeks creating even more awesome apps, websites, and strategies for businesses in the United Arab Emirates and beyond. They boast about their Android app development team for their exceptional development skills partnered with vast experience in creating, testing, and developing mobile applications.
Foundation Year: 2009
Company size: 11-50 employees
Specialization: Android Development, iPhone, iPad, Mac Development, Symbian Development, WordPress, CMS, Jqueury, HTML 5, Website Development , Social Apps, E-commerce solutions, iPhone Apps Development, OnDemand Apps Development, Social Apps, Marketplace platform development, UI/UX, Visitor Management Systems , and Best Mobile Apps Development Company
3. Silicon Graphics–
Build a development hub for the greatest ideas
Silicon Graphics has been in the business of Mobile Application for more than 15 years, helping Small-medium businesses to large enterprises with full-fledged customized mobile apps. Being a trusted partner for many successful brands, they harness cutting-edge tools, frameworks & SDKs to build custom apps for Android & iOS that are aesthetically pleasing and add value to business processes. They use cutting-edge technologies and innovations in the field of application development to open up new, lucrative opportunities for your business.
Foundation Year: 1995
Company size: 51-200 employees
Specialization: Digital Agency, Printing Services, Developers, Ecommerce, Web Design, Social Media Management, Search Engine Optimization, Digital Marketing, Landing pages, Brouchers, Video Development, Application Development, Google Analytics, PPC Management, Google Adwords, Product Listing Ads, Digital Enthusiasts, SEO, Branding, SMM, Rapid Agile Development, and Internet Marketing.
Emirates Graphic is an award-winning, Dubai-based, full-service design, and develop mobile apps agency. They create rich, unique, and innovative applications and games for iOS and Android platforms. At their core, they desire to push the boundaries in what is possible in the mobile world, by combining new technologies with contemporary design, relevant to local and global audiences. Their graphic design team makes sure to stay on top of today's mobile trends, which enables us to deliver innovative application designs time and time again. They take everything into consideration; from color psychology to customer behavior and user experience. 
Foundation Year: 2012
Company size: 51-200 employees
Specialization: Website development, Mobile application, Social Media Marketing, SEO, Email Marketing, Digital Marketing, Web Design, AdWords, PPC Advertising, Search Engine Marketing, Growth Marketing, iOS Applications, Android Applications, Web Applications, Corporate Branding, E Commerce Websites, and Online Platform Development.
5. Diginix- AI- 
Be Thoughtful in Everything You Do
Diginix-AI is a leading android application development services company in Dubai that offer a comprehensive and unrivaled Android application development solutions that help organizations and enterprises leverage untapped user base and escalate digital business revenue and growth manifold times. They have a dedicated and technically sound team of Android application developers who can develop high-end Android applications for various business verticals like health & fitness, on-demand applications, retail shopping, real estate, travel, education & learning, and the list goes on.
Foundation Year: 2013
Company size: 11-50 employees
Specialization: Website development, Mobile application, iOS Applications, Android Applications, Web Applications.
 6. Quanta Software Solutions-
A Result Driven Digital Agency in Dubai
Quantasoft Solutions is a leading-edge mobile application development and support service provider offering its services to Dubai, UAE based as well as international clients.
Their talented mobile app developers are known for designing easy-to-use mobile solutions for our clients, thereby ensuring better customer engagement and experience. Their mobile development team is well-versed for building apps for iOS, Android, or cross-platform networks. The mobile app development team of Quantasoft Solutions envisages developing beautiful and engaging Android, iPhone, and iPad apps with a major focus smooth user experience and robust functionalities.
Foundation Year: 2005
Company size: 51-200 employees
Specialization: Website Design, Web Development, Ecommerce Solutions, Strategy & Consulting, Mobile Applications, and Digital Marketing.
7. Mobiiworld–
Mobile App Development, Dubai
Mobiiworld is one of the leading mobile app development companies in Dubai. Their team consists of Mobile app development professionals with over 25 years of combined experience in Mobile apps and Web technologies. However, writing code is just half the story. They have their finger on the pulse of this ever-changing industry & offer consultation services to help you break into the exciting world of mobile apps. They craft mobile app developers for you and your business, with high visibility of project status from start to finish
Foundation Year: 2010
Company size: 11-50 employees
Specialization: Mobile application development, mobile application and games, and multiple platforms including iPhone, windows phone, blackberry, Symbian, java and Android and iPad platform.
8. Webcastle Technologies–
We are a full-service digital agency in Dubai
WebCastle Technologies is one of the reputable companies in Dubai, having expertise in delivering high performance and scalable enterprise mobile apps in Android and iOS. They have a team of experienced and professional developers design smooth and seamless mobile applications according to your requirements, which provide you a competitive edge.  WebCastle does take pride to deliver the top quality mobile apps that can increase the sales of the product beyond all the forecasts by making sure that the product is within your customer's touching distance, literally! Whether your need is an iOS, Android, or Windows app.
Foundation Year: 2009
Company size: 51-200 employees
Specialization: Web designing, Web development, Online marketing, Online advertising, iPhone application development, Touch based apps and sites, SEO, SEM, PPC, Web Apps development, WordPress, Drupal, Magento, Custom CMS, digital marketing, ORM, Internet of Things, Google Adwords, and Social Media Marketing.
9. Blue Horizon Infotech-
Solutions That Signify Accelerated Growth
Backed by a team of highly qualified professionals, BHI offers a comprehensive array of mobile application development solutions that cover an array of platforms. The optimum quality and precision of the solutions they offer to make leading mobile application development companies in Dubai. BHI, one of the pioneering software companies in Dubai, has taken the challenge head-on and has been delivering customizable and innovative mobile applications to its loyal clientele across the globe.
Foundation Year: 2011
Company size: 11-50 employees
Specialization: Mobile application development, Software Development, Software Design, and Software Consulting.
Weft Technologies, a Dubai based company have a  team of professionals who will deliver the quality product, with the most modern tools and technologies. Our Mobile Application Development team has a thorough knowledge of the development environment and related things. We are thriving for perfection in every app we build – Work closely with our designers and connect with the clients to create user-friendly apps for our clients.
Foundation Year: 2013
Company size: 11-50 employees
Specialization: Web Development, Internet Marketing, Web Hosting, Web Designing, Mobile App Development, and HRM Solution