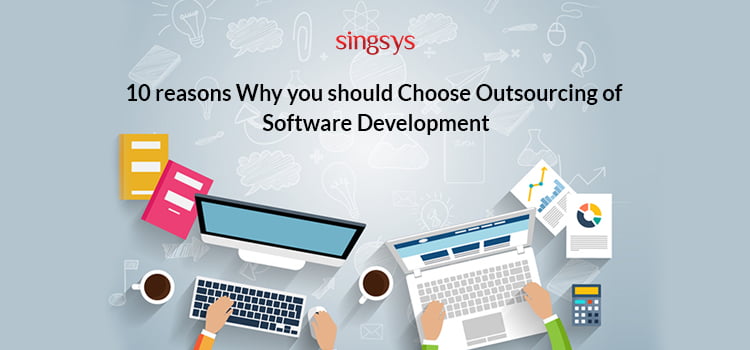 Outsourcing refers to the process of allocation of business processes to an offshore service provider who specialise in particular service. Outsourcing results in reduction of internal costs of a company at the same time enabling them to focus on its core business aspects.


In today's technically evolving era it is highly unlikely for an organisation to expertise entire spectrum of technology for software development. It is therefore wise to outsource software development. Outsourcing takes place when management of specific task becomes a hassle on account of complexity or small size of an organization and is viewed as consuming more time and resources.

There are multiple benefits of outsourcing software development so let us discuss in details what makes outsourcing work and why is it a hot trend in software development domain.

1- Cost Effective
Cost factor is reduced when you outsource your software development as it costs upto 90% lesser than in-house cost. Interestingly, no need of making an upfront investment thereby making outsourcing an attractive option

2- Time Saving
The amount of time is significantly reduced when a dedicated team works on your software 24*7 and increases the possibilities of product reaching the market earlier than your competitor

3- Lack of in house experience
The internal resources might not be capable enough to develop perfect solution to market companies business on global level. When you outsource software development you are adding an extra dimension to smoothly manage your business on global scale. This provides you an opportunity to have your software application optimised for an overall performance.

4- Flexibility
Upon outsourcing you need not invest time and money on recruitment, hiring, training for  short-term projects.
5- Expert IT Professionals
Outsourcing enable your access to some of exceptionally bright and well experienced IT experts around the globe without actually hiring them .

6- Risk Minimization
When you outsource particular development aspects of your business it allows you to hand over responsibilities to the outsourcing company. The outsourcing company being specialist will manage your risk to minimize it further.

7-Support and Maintenance
The key to developing sustainable relationship is through long time commitment of support and maintenance. This is another benefit you will experience upon outsourcing your software development.

8- Technological Advances
Technology evolves in different corners of the world. Outsourcing provides you the opportunity to get these technologies implemented in your software development thereby adding technical prowess in your software application.

9- Quality and reliability
It is outsourcing vendor responsibility to ensure quality and performance of products they develop. An agreement will be prepared for smooth regulation of deadlines, payments and  covering up of intellectual property rights as well other aspects demanding partner cooperation.

10- Improved Focus
Outsourcing is also an opportunity to allow you to completely put focus on your primary business needs and need not let you worry you about software development.
A company seeking help and support of third party for software development will allow them to witness an increase in terms of productivity and profit.

Singsys expertise in providing user-oriented solution on cutting edge technology under various domain to ensure stability and boost the ROI. Singsys boasts best-fit developers, designers that were key to partner with multiple Fortune 500 firms to deliver industry oriented web, mobile and e-commerce solution always.
You may be interested in following: