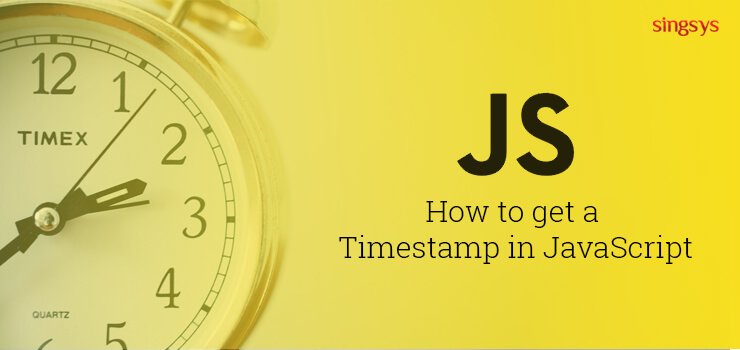 Method getTime() returns the total number of milliseconds between midnight of January 1, 1970 and the date specified by you. The often requirement to calculate with unix timestamp.


Syntax:
Date.getTime()

Date Objects Creation
The Date object allows programmer work smoothly with dates. Constructor new Date() is used to create date objects. The date can be initiated in 4 different ways.
1. new Date()– It will create a new date object with respect to the current date and time.
2. new Date(date string)- For creation of new date object from the specified date and time
3. new Date(number)– This will create a new date object as zero time plus the number.
4. new Date(7 numbers)-To create a new date object with respect to the specified date and time.

These 7 numbers specify the year, month, day, hour, minute, second, and
millisecond

There are multiple ways to fetch the timestamp. For current unix timestamp easiest and fastest way is
const dateTime = Date.now();
const timestamp = Math.floor(dateTime / 1000);
or
const dateTime = new Date().getTime();
const timestamp = Math.floor(dateTime / 1000);

Pass YYYY-MM-DD or YYYY-MM-DDT00:00:00Z as parameter of Date constructor in order to get unix timestamp of a specific date. For example.
const dateTime = new Date('2012-06-08').getTime();
const timestamp = Math.floor(dateTime / 1000);

Simply add a + sign while declaring a Date object like below
const dateTime = +new Date();
const timestamp = Math.floor(dateTime / 1000);

For specific date
const dateTime = +new Date('2012-06-08');
const timestamp = Math.floor(dateTime / 1000);
Date.now() is compatible with all major browser except IE8 and earlier.

For timestamp in milliseconds
if (!Date.now) {
Date.now = function() { return new Date().getTime(); }
}

For timestamp in seconds
Math.floor(Date.now() / 1000)

A faster alternative
Date.now() / 1000 | 0

Date.now() method apart from being short also, does not create a new Date object. If you want to experience maximum compatibility try older method to get timestamp in milliseconds:
new Date().getTime()

This can be then convert to seconds as below:
Math.round(new Date().getTime()/1000)
Looking forward to responding to your queries and comments regarding JavaScript TimeStamp. If any information you want to get included I will update this article with it.

About Singsys Pte. Ltd. Singsys is a solution provider that offer user friendly solution on cutting edge technologies to engage customers and boost your brand online results from a set of certified developers, designers who prefer optimized utilization of the available resources to align client's idea with their skillset to reflect it into a Mobile application, Web application or an E-commerce solution

You may be interested in following:
Remove Specific Element from JavaScript Array
HTML CSS and JavaScript tools and libraries for Productivity Boost
Random Whole Number Generation in Javascript Within a Range
5 Best JavaScript Testing Tools for Web Developers