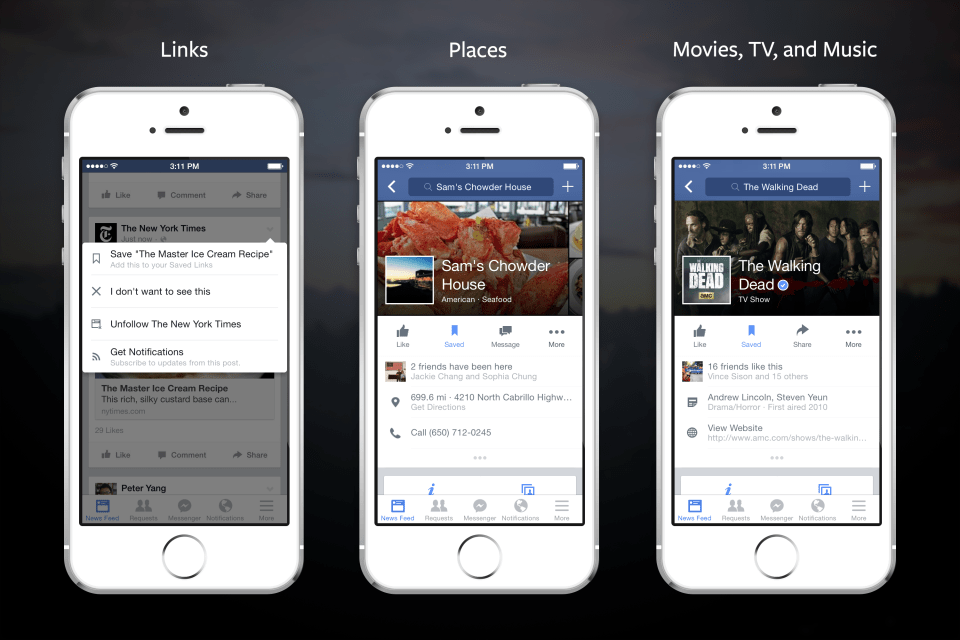 Facebook today introduced the Save button, a new bookmarking feature or read it later feature that lets you store links from your news feed and Facebook pages for Places, Events, Movies, TV shows etc. to a list which you can view and read them later on.
Facebook introduces the new features in its official blog, "Every day, people find all sorts of interesting items on Facebook that they don't have time to explore right away. Now you can save items that you find on Facebook to check out later when you have more time. You can save items like links, places, movies, TV and music. Only you can see the items you save unless you choose to share them with friends."
If any user finds any article interesting and worth reading on his Facebook timeline then he can save the article from their timeline by tapping on the top-right corner of the story. To view and read the saved article later on, users can view their saved items under the "more" tab on their smartphone or tablet. It will also be accessible through a standard Web browser on the computer. To access the Saved items on the Web you just click on the Saved feature on the left-hand side of your News Feed and on mobile click on the more tab.
Facebook will also remind you about your saved links periodically. "We'll sometimes show you reminders of your saved items in News Feed. For example, we might show you link to articles you saved." You can use this feature as a bookmarking service.
The links saved by you will only be visible to you and you can also share any item with your friends or can archive any item in the list.
Here's a sample of how it will look:
Introducing Save on Facebook from Facebook on Vimeo.