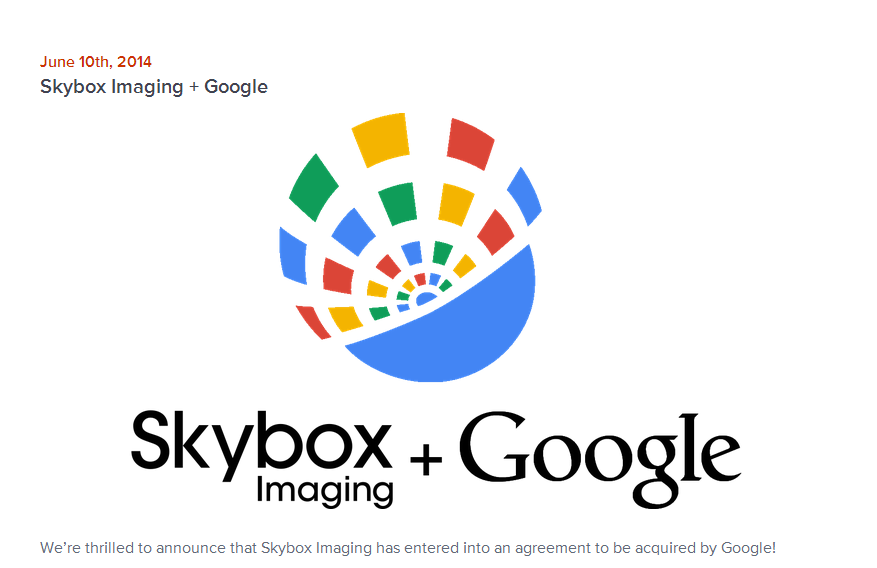 On Tuesday Google announced that it is buying a satellite imaging company, Skybox for $500 million to improve its maps service.
Skybox founded in 2009 is a Mountain View, California-based private sector satellite maker startup. It provides the real-time videos and images to help businesses take more broad decision. Google said in a news release – "Google Inc. (NASDAQ: GOOG) announced today that it has entered into an agreement to buy Skybox Imaging for $500 million in cash, subject to adjustments.
Skybox's satellites will help keep Google Maps accurate with up-to-date imagery. Over time, we also hope that Skybox's team and technology will be able to help improve Internet access and disaster relief — areas Google has long been interested in.
The transaction is subject to customary closing conditions, including the receipt of regulatory approvals in the US"
Skybox started working five years ago with a thought to "revolutionize access to information about the changes happening across the surface of the Earth,". "The time is right to join a company who can challenge us to think even bigger and bolder, and who can support us in accelerating our ambitious vision." Skybox said in a blog post,  "Skybox and Google share more than just a zip code. We both believe in making information (especially accurate geospatial information) accessible and useful. And to do this, we're both willing to tackle problems head on — whether it's building cars that drive themselves or designing our own satellites from scratch."
The acquisition of Skybox by Google could be helpful for its Maps. Google said it will pay $500 million in cash to acquire Skybox. Earlier Google has also bought a Drone company, Titan Aerospace which is the manufacturer of solar-powered drones. Earlier Facebook was interested to acquire Titan Aerospace but it has decided to acquire rival drone-maker Ascenta instead.
Here is the video of Skybox Imaging Captures World's First High-Resolution, HD Video of Earth from Space (1080p HD).