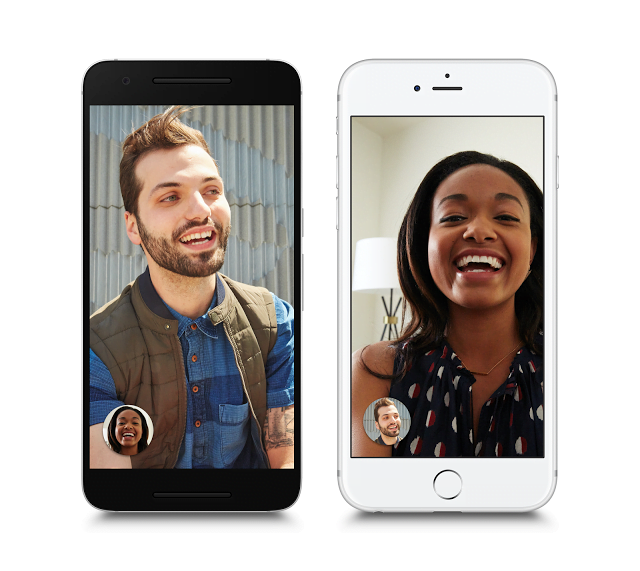 At times Video Calling can be irritating experience if you doubt will you be able to connect or is my friend on same type of device . These all reasons restrict us from making a video call.
The Simple Solution to address your problem is Google Duo  a 1-to-1 video calling app for all to enjoy video calling seamlessly. Google Duo  app available for Android and iOS. Google Duo resolve  the complexity out of video calling, so that you can be together in the moment irrespective of where you are.
Simple  interface
Owing to Google Duo simplicity  all you need is your phone number and you'll be able to reach people under your phone's contacts list. No specific account is required  simply sign up in just a few steps. Now instantly begin a video call with a single tap.
Fast and reliable
We all know how irritating it is if call fails to connect. Google Duo is built to be fast and reliable ensuring  that video calls connect quickly and works fine  even on slower networks. Call quality adjusts to changing network conditions to keep you connected  when bandwidth is limited, Google  Duo will smoothly  reduce the resolution to let the call continue without interruption .  As far as Video calls are concerned  Duo will switch between Wi-Fi and cellular data automatically without dropping the call.
Human design
Google Duo is designed to make call look more like a interactive invitation than just an interruption, The  Knock Knock feature  allows you see live video of your caller before you answer, giving you an idea  of what they're up to and what they want to chat. Knock Knock adds an spontaneity to Video Calling making it more relaxing and  welcoming  helping you connect with the caller before you actually communicate
Privacy
Google Duo emphasis on  privacy and security is no lesss than video calling  hence every call is end-to-end encrypted.
Google Duo to  roll out  for Android and iOS today, and it will be live worldwide within few days.