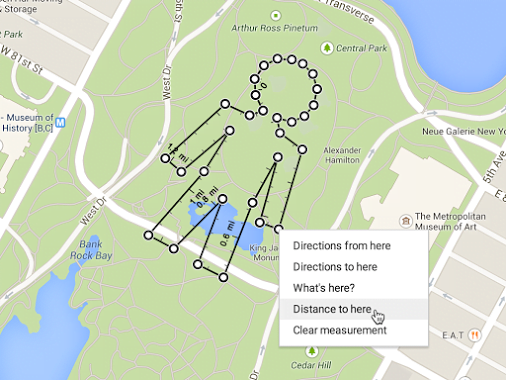 Google Maps on the desktop has bring the new feature that allows you to measure the exact distance between the two points by plotting route on the map.
Google announced this minor but significant feature update in a post on its Google+ page, "Perfectionists, rejoice! The new #GoogleMaps for desktop lets you click and drag to measure your next road trip, bike ride or run—even if you're taking a few sharp turns."
Earlier Google Maps gives distance along the planned route when you searched for directions. Now it gives the exact distance between the starting point and the final destination.
To view the distance between points in the new Google Maps, use the right-click menu.
1. Open the new Google Maps and right-click on your starting point.
2. Click Measure distance.
3. Click anywhere on the map to create a path you want to measure. Click to add additional measuring points.
4. You can also drag a point to move it, or click a point to remove it. (This is optional)
5. Look on the map and under the search box for the total distance.
When done, click the "X" in the card under the search box or right-click on the map and select Clear measurement.
This was previously a lab feature in the old Google Maps but is now available as part of the main service.