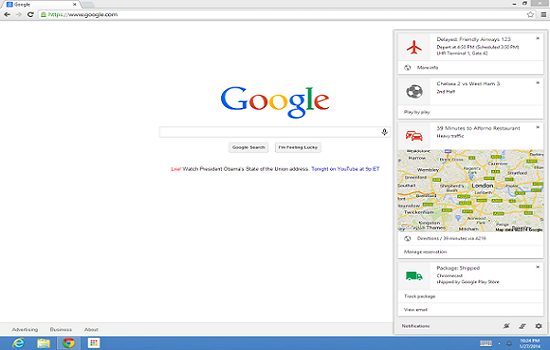 Google Now is finally available in Chrome for Windows and Mac. Google has announced it today that it is available in Chrome "starting today and rolling out over the next few weeks."
According to the Google Chrome Google+ account: "Starting today and rolling out over the next few weeks, Google Now notifications will be available to Chrome users on their desktop or laptop computers. To enable this feature, simply sign in to Chrome with the same Google Account you're using for Google Now on Android or iOS."
Google Now notification currently is available only for the android and iOS users but is now also available to the desktop and laptop Chrome users. To enable the Google Now notification users need to be logged into the chrome on desktop with the same account they are using on iOS or Android platform for the automated digital assistant.
Users will need to manage the location settings for each device independently if they are using the multiple devices.
Cards will be visible in user's computer only if they are using Google Now on their mobile device and if they have already signed into Chrome. It will include weather, sports scores, commuter traffic, and event reminders. Some cards may be based on the location of user's mobile device and others will work independent of mobile device location.
Google Now checks in for location info even when Chrome isn't working, but users can turn it off by clicking the bell icon present in the lower right corner of your computer screen (Windows) or the upper right of your computer screen (Mac) to open the Notifications Center. In the Notifications Center, click the gear icon and uncheck the box next to "Google Now."
Currently it will be available only in English, may be it will be available in some other language soon.