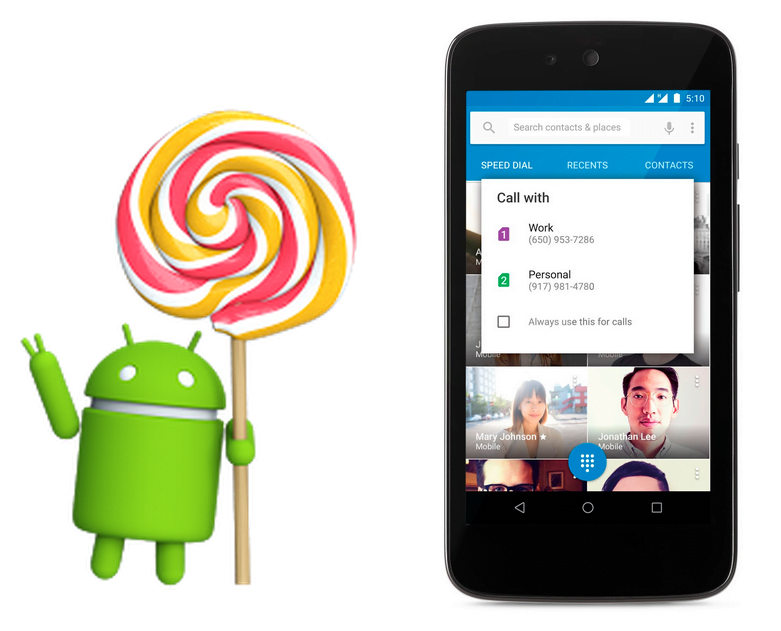 Google has officially rolls out Android 5.1 Lollipop to compatible devices with multiple SIM support in devices having multi SIM slots, HD voice calling feature and much more.
This update to Android Lollipop comes with a number of bug fixes and some new features such as Device Protection, multiple SIM support and High Definition voice calling. Google has confirmed this news in its official blog,"Today we are rolling out Android 5.1 – an update to Lollipop that improves stability and performance and offers a few new features like support for multiple SIM cards, Device Protection and high definition (HD) voice on compatible phones.
Whether you want to share your phone with a family member or better manage your mobile costs, Android Lollipop 5.1 now lets you use more than one SIM card on a device with multiple SIM slots.
With Device Protection, your lost or stolen device will remain locked until you sign in with your Google account – even if someone resets your device to factory settings. This feature will be available on most Android phones and tablets shipped with Android 5.1 in addition to Nexus 6 and Nexus 9. "
With multi SIM support feature, Android will now support dual SIM without any third-party OEMs add-ons needed. While High Definition Voice Calling feature will let users take advantage of high and better quality voice calls. Other features include support for quickly connecting to WiFi networks or Bluetooth devices devices from the Quick Settings option, new animations in the clock app etc.
The first devices to get the Android 5.1 update will be the T-Mobile Nexus 6 and Verizon Nexus 6, with the T-Mobile Nexus 5, Nexus 7 and Nexus 4 also on the update list.