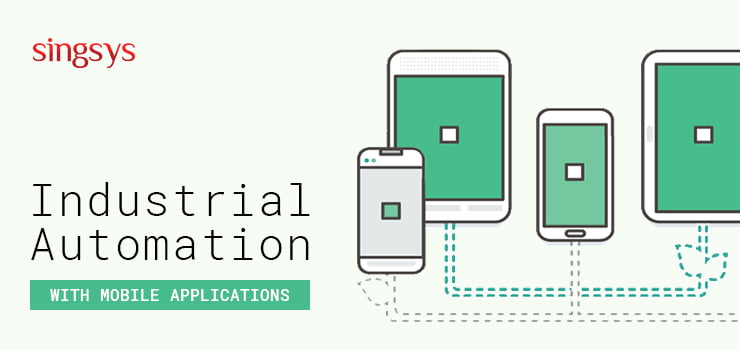 Mobile apps are unconditionally popular and the secret is it plays key role in boosting the productivity of an organisation. There are so many industrial companies who are still adjusting with outdated and inefficient technologies to plan, execute and control their business processes.

Today the industrial automation is experiencing a paradigm shift with remote monitoring and management going mainstream. Cloud computing is serving the rise in demand of energy management technologies. In order to stay ahead of competitors and succeed in arena of industrial automation new concept and technologies are being adopted rapidly.
The mobile apps have data and knowledge provided live by employees who are responsible for the production and operation of plants which is comprehensive and manageable at the fingertips and it let executives act proactively rather than re-actively to easily identify the trends and make data-driven decisions which are also better decisions.
Industrial Automation with Mobile Apps: Challenges and Opportunities
Major challenges of introducing mobility in industrial automation are network capability, safety equipment, IT infrastructure and environmental safety. At so many places radio phones are still considered to be an important means of communication among the workers.
IT infrastructure: Industrial software systems contain software version that has been developed many years before and are almost on verge of being obsolete. This makes it complex to integrate mobility solutions in the prevailing system. A very high degree of security is required to ensure secure IT systems.
Environment: Industries are generally distributed into areas based on difference in frequency of work. Solution through mobile app will not be useful if there issues are encountered while accessing the information. Specially impurities like dust will impact the touch abilities of the apps
Network capability: If industrial plant is not located within the vicinity of network tower then it will be serious challenge to leverage the benefits of mobile apps for industrial automation
Role of Mobile Apps in Industrial Automation
Mobility has revolutionized the mode in which industries operate. There is sharp rise in adoption of advanced technologies in form of mobile apps to ensure smart automation which ensures highly improved productivity while reducing the ownership cost. Quick ,smart and better decisions are responsible for improving the efficiency of productivity at minimum risk. industrial automation through mobile app solution not only help companies capture huge amount of data but also to streamline the workflow and enhance customer relationship.
The idea behind automation of industrial operations is to gather the data to analyze it and find solution for reduction in cost, time consumption, new product development and for smarter decision making. Mobile apps have also played a crucial role in generating strength across industry.
By integrating multi-vendor system as well as feature enhancement and customization.
TeamONE, is an amazing industrial app from Rockwell Automation, supports eight modules designed to boost collaboration and teamwork for troubleshooting and resolving issues. Users can easily access data and communicate with colleagues as well.
Industrial automation will enable companies to perform various operations that have control over software and programming solutions, integration of plant with enterprise and remote monitoring on behalf of web-based system.
These mobile apps are designed for providing multiple benefits to business that operate in hazardous areas and most important advantage they ensure is cost effectiveness since no requirement of hardware for asset scanning. These apps are also helpful in preventing any unwanted outage.
The bottom line is to be able to compete and thrive in current scenario a company must regularly refine its mobile strategy to ensure full satisfaction.
Singsys is an established entity in ever expanding arena of mobile, web and e-commerce solution development. We have developed Headquartered in Singapore with its offshore arm in India. The SingSys is hub of dedicated developers who are passionate about leveraging the industry trends and implementing it to best in all the projects.
You may be interested in reading :