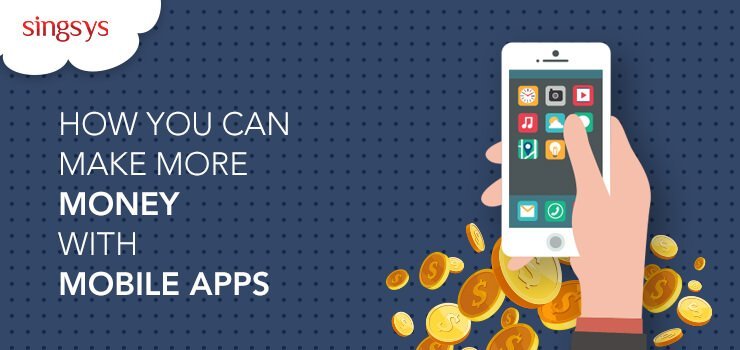 The progress mobile apps have shown in recent past is unprecedented and is here to stay for long . You can leverage popularity of mobile apps to earn more money. Earning a bit extra is always delightful experience.
The global app hemisphere is immensely huge and has potential to grow further. Keeping in mind the unprecedented growth of smartphone usage reveals an opportunity to explore how you can make more money with mobile apps. Let's traverse through finer details of mobile apps to gather important insight for earning some extra money with your app.

Make Money with Mobile Apps
1. In-App Purchases
This one is very effective and popular strategy that is practiced in thousands of popular apps be it Google Play Store or Apple App Store. In-app advertising will surely earn and give you some extra cash provided it is an app with big user base. There are 3 kinds of in-app purchases:
Consumable Features: These refer to only one time usage features like virtual money or health points. These are mostly found within mobile games.
Non-consumable Features: User generally purchase these features for always use. These features are extra functionalities and ad blocking.
Subscriptions: Mobile application will offer subscriptions to unlock some features or function for specified time period. These subscription can be both auto renew or non-renewable.

2. In-App Ads
Ads have always been a key driving force regarding revenue since the inception of mobile apps. They are found in almost every mobile app. Mobile apps serve as good platform for affiliate marketing. Advertise the products and service of your affiliate within your app to earn everytime when user will interact with these ads.
Among various categories used in affiliate marketing let us focus on the popular ones.
Cost per click (CPC): Whenever there is click over ads displayed in your application it pays you predefined amount of money. It is mainly measured in per thousand clicks.
Cost per view (CPV): This type of campaign is normally applied on video ads. The higher the frequency of users visiting your video ads, the more money you make.
Cost per install (CPI): This model will pay you whenever user installs an advertised application.
There are various ways to display ads on your mobile apps
Banners Ads: These sort of ads generally appears either at top or bottom end of a screen with some text and graphics. Banners being unobtrusive don't disturb user and let them keep interacting with the app.
Native Apps: In order to reach the users who are not into entertaining the traditional form of ads then native ads will really help you out. These ads don't look like conventional ads at all rather they are smoothly integrated with mobile apps thereby making them subtle and effective.
Videos:  eMarketer believes videos as more engaging and effective platform for displaying your Ads and claimed CTR of video ads to be thrice more than banners. Video ads will appear on user interaction with apps.

3. Freemium
In this monetization scheme you will require a paid version of the app to benefit from it. When user will be engaged with free version he will be interested in trying the paid version too which will provide him some extra functionalities to enhance the experience further.
In freemium model users will be offered to upgrade existing version of the app to a paid version, and is directed to an app store for same. This monetization option is amazing and effective provided you not many functions are present in your free app else majority of users will not be bothered about paid app.
4. Sponsorship
Arranging a sponsor is a really attractive model for monetization. When your app captures lot of users then you should get connected with a sponsor company to upgrade the overall look and feel of your app to align it with brand of the sponsor. Either you can share the revenue with your sponsor or agree to monthly sponsorship fee.
5. Subscription Apps
The subscription module only works for specific mobile apps that too generally in the media industry. In this users are required to pay for using the app for limited time period. Most of the high-authority magazines and popular news sites prefer this model.These type of apps are hard to maintain because of expectation of fresh and unique content to engage user every time they log in.
Mobile applications are most suitable and favorable platform with incredible potential to generate revenue provided these are sufficiently engaging enough to appeal and attach with the target audience.
Apart from the responsibility, it's the professional acumen of an IT firm to ensure not only a customized app on latest cutting edge technology to meet industry standards and make business objectives audible but also to develop mobile apps that are optimized  and best in class bespoke business solutions offering a great user experience.
You may be interested in: