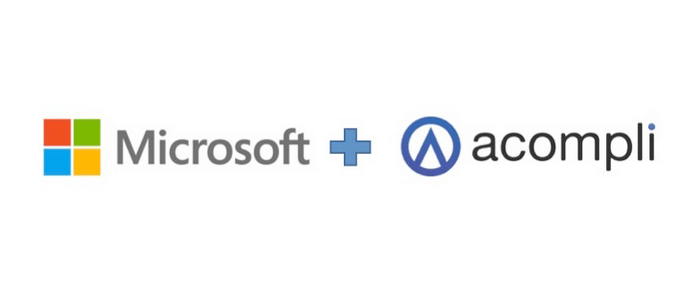 Microsoft has acquired the San Francisco based iOS and Android Email app maker startup Acompli to give Outlook a mobile advantage.
The terms of the deal was not yet disclosed by the company. Microsoft announced this acquisition on its website, "I'm pleased to announce that Microsoft has acquired Acompli, provider of innovative mobile email apps for iOS and Android.
This acquisition is part of our company-wide effort to help people accomplish more with their mobile devices. This year we brought Office to the iPad and the iPhone, and we recently announced that we're bringing Office to Android devices. These are significant steps in our work to deliver the best productivity experiences across mobile platforms, and we're continuing to push forward." Microsoft wrote in a blog post, "This acquisition brings us an app with innovative technology and a set of talented people who are passionate about reinventing email and communications on mobile screens. It will expedite our work to deliver the full power of Office to mobile devices. "
The Acompli app allows its user to manage calendar and attach files from Google Drive, Dropbox and Microsoft's OneDrive. The Acompli application also features Microsoft Exchange and Gmail Integration. It makes an email client for Android and iOS designed to perform simple as well as complex tasks such sorting messages, sending typical responses, finding attachments etc. With Acompli you can view and attach files from your Dropbox, Google Drive, Microsoft OneDrive and email accounts with just a few clicks and also find your important emails, people and files with a couple of keystrokes.
Acompli CEO, Javier Soltero wrote in a blog post, "Over the next few months, we'll be sharing more about the exciting product plans we have as Acompli becomes a part of Microsoft. We remain committed to the original Acompli vision of making the best mobile email application on any platform and across all services. Your app and accounts will continue to work and the team will continue on our fast pace of improving and adding new functionality every couple of weeks."
Stay tuned with us for more details.