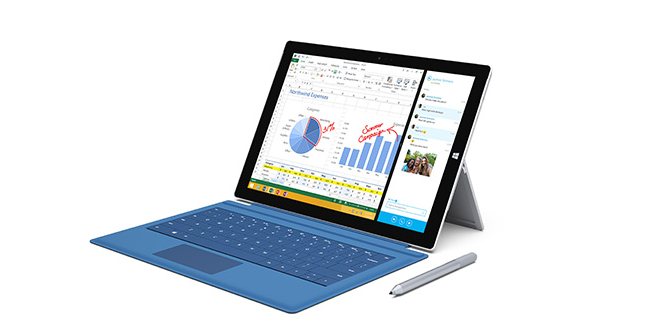 Microsoft launches Surface Pro 3 at an event in New York city on Tuesday which is lighter
than a MacBook Air.
The new third generation Surface Pro 3 comes with a 2160×1440 screen, microSD card reader and a USB 3.0 port. It has a 12-inch display. The weight of Pro 3 is 1.76 pounds without a keyboard and measures just 9.1mm, making it the "thinnest Intel Core product ever made," according to Microsoft.
"This is the tablet that can replace your laptop," said Panos Panay, corporate VP of Microsoft. "We designed it in thinness around every corner. This is faster than the Surface Pro 2 you've loved to date and is much thinner."
"The question that needs to be asked and answered is, 'Why hardware?'" said chief executive Satya Nadella at the launch event in New York.
"We clearly are not interested in building refrigerators or toasters. We are not building hardware for hardware's sake. We want to build experiences that bring together all the capabilities of our company, from our cloud infrastructure to our application services to
our hardware capabilities, to build these mobile-first productivity experiences. That's the mission," Nadella said.
"In fact, our goal is to create new categories and spark new demand for our entire ecosystem. That's what inspires us and motivates us with what we are doing in our devices and hardware." Nadella added. Users can tilt the screen of Surface Pro 3 to an angle of up to 150 degrees. The speakers are 45% louder than the previous tablets and its 9 hour battery lasts 20% longer than the last Surface Pro tablet. It also features a 5MP camera that occupies both the front and back, and both can capture 1080p HD video.
The price of the device is currently marked at $799 and is expected to ship in the UK in August. Panay also said that the 95% of people who own an iPad also own a laptop, but the Surface Pro 3 promises both functions.