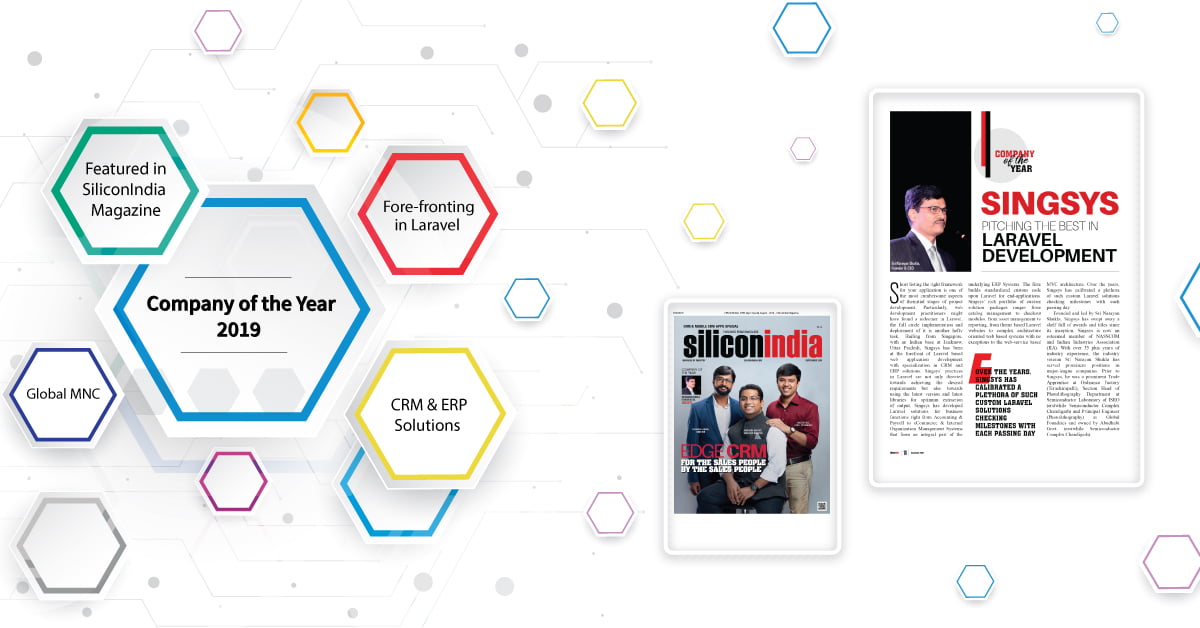 Singsys bears the testament of exceptional expertise in custom software development globally. Significantly, being at the forefront of top laravel solutions in India, it has significantly acclaimed the renowned 'Top Company of the Year-2019' recognition by SiliconIndia.
Singsys, globally celebrated MNC headquartered in Singapore , has been ranked 1st in India's 'Prominent Companies List' in Laravel Development for 2019 by SiliconIndia.  It is essentially a quantum leap forward emerging as India's top company from having already uphold similar top recognitions in Singapore.
Singsys has also been recognized as the Laureates for consistently getting featured for it's exemplary services for Indian software industry, with its earlier significant 'Startup of the Year' recognition in 2014.
This recent achievement showcases Singsys's commitment to upscale state-of-the-art technologies towards rendering  all-inclusive services.
"Being at the forefront of Laravel based web application development with specialization in CRM and ERP solutions", as quoted by SiliconIndia, Singsys has crafted this niche with its supremest technical-workforce on-board. 
This accomplishment cements Singsys's commitment towards curating and nurturing the culture for building and sustaining its philosophy of high-trust and high-quality. Sophisticated R&D has been the major plank to bring forth this prestigious perceiving with experiential learning, custom-made strategic frameworks in place for the yet visionary perspectives towards 'Digital Evolution' that Singsys aims to enthusiastically uptake for its Indian expansion disposals. Great Start Indeed.
As an organization, Singsys has always been at the leading edge in nurturing talented individuals with knowledge, skill sets, and competencies and aligned its human resource function with the fast-changing business environment, outcomes of which are uniquely evident from this recent recognition!