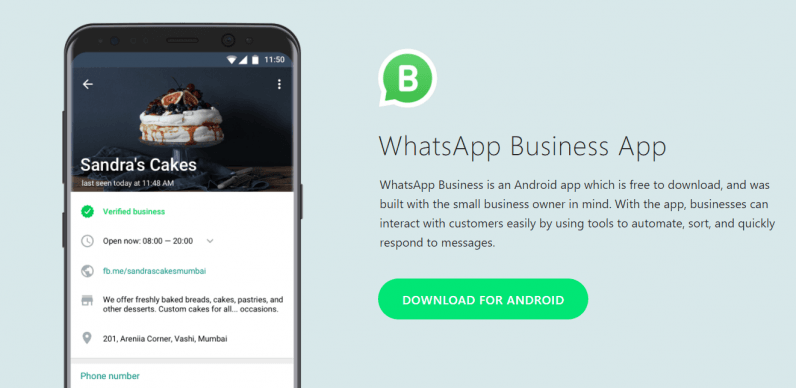 Image credit: thenextweb
WhatsApp has released its business exclusive WhatsApp Business app. This will enable the business owners to reach customers in less than usual time as well as they will get quick response owing to the highest response rate of Whatsapp among all the messaging apps available worldwide.


Businessmen will be able to create their own profiles describing the business, fill their email and store location along with website address thereby, enabling customers to reach them easily and eventually multiplying the existing business opportunities. The most convincing feature about the app is access to Messaging Statistics and review metrics to provide an exact view of what is going well for business.

Whatsapp mentioned that their latest app is specifically planned to segregate business from personal conversation and provide opportunities for business owners to establish an official business identity to easily and quickly respond to customers. Currently, the launch is limited to 5 countries but will be soon rolled out for rest of the world.
A green badge adjacent to contact name signifies it is a business account officially verified by Whatsapp.
Certain concerns lingering with Whatsapp Business App:
No protection for the confidential data about customer and employees
Whatsapp is a cloud service based in the USA where data surveillance is quite often
No dedicated feature of remote content deletion, disabling message copying and control over digital content sharing or blocking the access in case your smartphone is lost.
We hope Whatsapp will soon show up with suitable solutions for the above. You can download it  and grab your customers