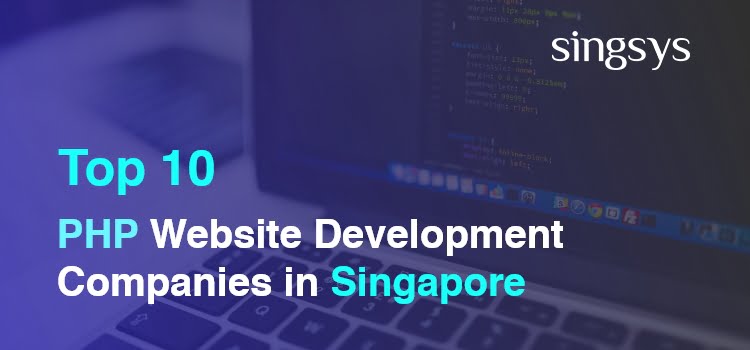 PHP website development companies are numerous in SIngapore and they all claim to provide best service at an affordable rate. There are few important factors to take into consideration before approaching PHP website development company.
These criterion include website development methodology used, portfolio, and reviews of existing clients. It is therefore important to hire the best PHP web development company for getting a website developed that for growth and expansion of your business.
1. Singsys
–
Highly Skilled PHP team for Customised Web Application

PHP experts at Singsys have always leveraged their website development skills to ensure world class web development services. Their PHP web application team believe in writing high quality codes and leverage latest PHP web development tools.
They will meet all your requirement with web application customised to meet the business requirements. They have developed PHP websites in multiple industry domains and for Fortune 500 firms.
Developers at Singsys also focus on making web application highly scalable and stable from futuristic point of view. Their PHP based web solutions work smoothly across multiple platforms without any compromise on user interface and user experience.
Foundation Year: 2009
Company size: 51-200 employees
Speciality: PHP Website Development, Mobile Application Development, Flutter App Development, Website Development, eCommerce Store development, React Native App Development, and Digital Marketing.
2. Octal Info Solution
–
Develop technically advanced website

PHP developers at Octal Info Solution develop highly interactive and technically advanced PHP based web applications. In this way their web solution meet every need of client business.
They have a 11+ years of experience and a team of 150+ professionals who have put their best efforts to achieve 70% repeat customers. They provide 24/7 Technical Support to ensure client gets highly productive solution.
Foundation Year: 2007
Company size: 51-200 employees
3. Blazedream
–
PHP Development Company Singapore

Blazedream is Singapore has enormous knowledge and leverage it to develop cutting edge websites using PHP framework. Their track record is full of successful websites developed using their technical expertise at an affordable price.
They believe their client business idea deserves an absolutely awesome website. They work on all latest technologies to develop most impactful PHP website. Interestingly Blazedream has also provided tech support for PHP development company.
Foundation Year: 1999
Company size: 51-200 employees
Speciality: Website Applications, Web Development, Social Networking Sites/ Blogs, B2C / B2B, Portals, Database Driven Websites, E-Commerce, Intranet, Web Maintenance, Search Engine Optimization.
4. Fortunesoft
–
The Leading PHP Development Company Singapore

Fortunesoft is Singapore leading IT company that develops full-fledged eCommerce solution with PHP. They expertise in leveraging the power of PHP and its extensive library to ensure web application has added features like graphic design and image processing.
They will provide customised web solution in categories like Real time maps and social location apps, Customised search engines, Data analysis and mining, Music & Video streaming, E-marketplaces, Interactive dashboards, Social networking platforms and Learning platforms.
Foundation Year: 2009
Company size: 51-200 employees
Speciality: Web Development, Web Design, Mobile Apps Development, IBE GDS Integration.
5. 2intelli
–
– PHP MYSQL DEVELOPMENT
At 2intelli the highly skilled PHP-MYSQL development team help client to avail multiple benefits in addition to PHP website development that includes the below.
Multilingual & Robust Database Support.

Highly Flexible hiring options.

Seamless communication based on multiple channel of communication.

Completely customised & optimised websites that are interactive.

24*7 Technical Support
Their PHP MYSQL development expertise extends to:
Shopping Cart Development

Custom Website & Web Application Development

Configuring, improving and maintaining MySQL database and much more

Inventory Management System

Job & Classified Portal Development

Content Management System

Custom Utilities Development

e-commerce Website Development

Payment Gateway Integration
Foundation Year: 2013
Company size: 11-50 employees
Speciality: Software Development, Digital Marketing, Ecommerce Development, Mobile Application Development.
6. BRANDREACH
–
PHP DEVELOPMENT COMPANY IN SINGAPORE
Another great PHP Website Development firm in Singapore. They boast a team of professional developers who are capable of developing websites in every industry domain. It is also voted as one of the creative website design & development agency in Singapore. They have provided world class web solutions to various clients across the globe. They have secured a spot in Top 10 PHP website development companies in Singapore due to following reason.

Successful development of 1000+ websites.
Every website is W3C validated.

SEO semantic and clean coding.

All websites with cross browser compatible.

Affordable website design for small business.

Custom web development consultation.



They have partnered with clients like COBHAM, MDIS MAKAN, ADVO Education Centre, FrozenAge, JEAN YIP Group, KinderCoin, and more.
7. Ranosys
–
PHP Web Development Services in Singapore
Ranosys has the expertise to smoothly handle every PHP Web Development project with any level of complexity. It is one of the leading PHP development company in Singapore that rely on best development methodology in industry to ensure a comprehensive and highly scalable PHP web applications.

Their developers have a lot of experience to understand client requirement to provide effective PHP solution in form of feature rich eCommerce portals, CMS, social networking websites and more.They have offered their services to notable brands like Shell, National University of Singapore, BlackBerry, Singtel, Charles & Keith, Monetary Authority of Singapore, EPSON, McDonald's, Singapore Post, Pedro, and more.
Foundation Year: 2008
Company size: 201-500 employees
Speciality: Healthcare IT Solutions, OutSystems, Salesforce,CRM Solutions, Enterprise eCommerce Solutions, iPhone Apps Development, eLearning and Education Solutions, iPhone Apps Development, Android Development, Magento Commerce.
8. Openwave
–
Ensure Entrepreneurial Success with Versatile Web Application
Openwave has a legacy of being most powerful PHP web application development company in Singapore. It has a team of highly skilled PHP/MySQL developer who have years of experience and expertise in development of dynamic and highly sophisticated web solutions.

There PHP solution have following benefits
Product Catalogues

.

Credit Card processing.

Shopping Carts.

Integrated Search.

Creating Restricted Access Areas.

Payment Gateway System Setup.

Responsive Websites with Flawless Functionality on all Devices.

Easy Deployment of Back-End Administration.
Foundation Year: 1997
Speciality: PHP, CMS, Ecommerce, Web Design/Development, .Net, Payment Portal, AR/VR, Blockchain and Mobile App Development
9. Web Revolution
–
PHP Website Development
Web revolution in Singapore provide PHP Web development. They provide professional website design and development based on PHP to boost clients online presence.

Their PHP website development include dynamic pages, user oriented navigation, blogs, forums, and social networking sites.

They have developed websites for both local and international clients.
10. Skylark
–
Web Development
Skylark in Singapore has the expertise and experience as well as huge pool of experienced developers who are well versed with PHP web development platform to design and develop custom based websites that are focused on taking client business to next horizon of success.
You May be Interested in following: