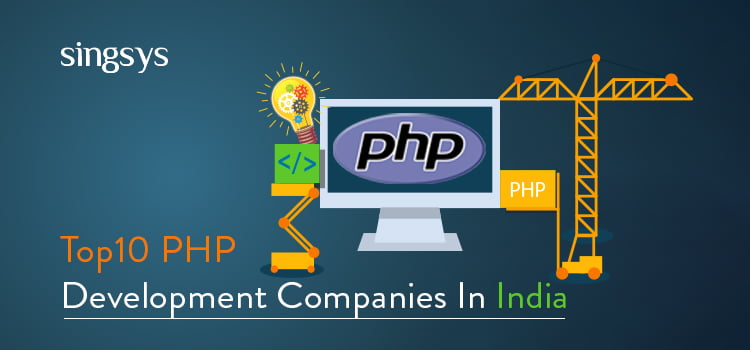 PHP is most sought after web development platform on account of being robust, safe, fast, secure and its ability to smoothly work with all major web servers, operating system and database. The dynamic and challenging world of web app development makes it pretty tricky to opt for best PHP development company for website development in India.
An ideal PHP development company is one with a team of PHP developers who have good amount of PHP web app development experience and are ready for taking up any challenge irrespective of technical complexity involved.
Here is list of top notch Indian PHP website development companies that are renowned to offer professional level PHP web app development services.
1.

Singsys
–
We follow Our Passion for PHP
Singsys deserve the place at the top of the top 10 PHP development company in India due to its vast experience in all PHP frameworks. They have a team dedicated to PHP website developers who are well versed with interoperability of PHP for the development of web apps that are customised to be in exact accordance with client business requirements.
They believe in maintaining the highest coding standards and the latest tools for PHP web development. They will develop the website from scratch or revamp the existing website to ensure it is appropriate as per client business model. Singsys has a decade of industry experience to develop PHP based web applications at an affordable price.
Foundation Year: 2009
Company size: 51-200 employees
Speciality: PHP Web App Development, Mobile Application Development, Flutter App Development, Website Development, eCommerce Store development, and Digital Marketing.
2.
Ezeelive
Technologies
–
PHP Web Development Services
Ezeelive is renowned for being a top class and professional level PHP web application development service provider in India. They have highly skilled developers who are ready to custom build websites by leveraging PHP platform in most productive manner.  
They promise their client to deliver a web solution developed to edge out the competitors and is within the budget. Their developers are keen about addressing any technical issue as soon as possible as their primary focus is to serve high level satisfaction to the clients.
Foundation Year: 2005
Company size: 11-50 employees
Speciality: Website Design, Web Development, CMS Builder, Zend, Cakephp, Symphony, Yii, Zend Cache Module, APC, Magento, Prestashop, Zen-Cart, Oscommerce, Drupal, Joomla, Mamboo, Memcahe, Varnish, Sphinx, Mailchimp.
Another indian IT service provider with global presence in more than 80 countries firm with nasscom certification. Their PHP developers are very passionate about PHP and remain updated with latest buzz in web application industry.
Their relentless efforts behind successfully delivering 1200+ PHP applications to 800+ clients has made them one of the trusted PHP website development company in India.
Vodafone, Revlon, Motorola, D-Link, Unilever and more are some of the world renowned brands that approached Sparx IT solution for their services.
Foundation Year: 2008
Company size: 201-500 employees
Speciality: Web Development, Website Design, iOS Application Development, Open Source Development, HTML/HTML5 and JavaScript Expert, Android Application Development, eCommerce Web Development, Mobile Application Development, SEO, Native and Hybrid Mobile Apps.
4.

Pixel Crayons
–
Award-Winning PHP Web Development Company in India
PixelCrayons primarily focus on development of PHP web application that are not only dynamic but equally secure, robust and highly scalable. They deserve a spot in top most trusted PHP development companies due to their state of the art infrastructure backed with team of expert PHP professionals with hands on experience on latest PHP frameworks.
Their full stack PHP development services include the below
API development and Integration

PHP based customization

Custom PHP Development

PHP consulting

Support & Maintenance
Their PHP development team is well versed with best of PHP frameworks namely Laravel, Cake PHP, CodeIgniter, Yii, Zend, Symphony and more
Foundation Year: 2004
Company size: 201-500 employees
Speciality: PHP, Magento, Java, Responsive Web Design, eCommerce Solutions, Drupal, WordPress, iOS/Android, eCommerce, OpenSource Integration/Customization.
5. Dselva
–
PHP Development Company in India
Dselva is one of the most sought after software company in north India. PHP developer at Dselva is full of highly proficient PHP experts who irrespective of project complexity have always figured out and implemented best methods for ensuring high success rate. They smartly leverage the PHP as scripting language to its maximum and their inhouse PHP development team is competent to work with Linux Apache MySQL PHP (LAMP) & AJAX.
Despite being only for couple of years in PHP development service they deliver web solution within budget with zero hidden cost. They provide direct communication with developer for clients.
Foundation Year: 2011
Company size: 51-200 employees
Speciality: PHP Development, ERP Development, Dot Net Development, crm, erp, Custom Software Development, Magento Website Development, WordPress Website Development, Android Application Development, iOS Application Development, Ecommerce web applications Development, Java Development,
6.
OrangeMantra
–
PHP Development Services
Orange Mantra or simply "OM" hold high level expertise in crafting dynamic websites by leveraging PHP web app development platform.
From simple PHP-based websites and apps to advanced domain-specific solutions, we are capable of doing it all. We comprehend the absolute need of our clients and have proven excellence in delivering CMS Development, E-commerce websites, Social networking site, Web calendars, Payment gateways, and, etc., based on PHP.
They provide PHP web development services in many ways like CMS development, web calendars, Payment gateways, social networking website, eCommerce websites and more. Either client requires a simple PHP web solution or a modern website with advanced feature pertaining to a particular domain. Orange Mantra has enough expertise in a various popular PHP framework to develop a website as per client business model.
Foundation Year: 2001
Company size: 51-200 employees
Speciality:Mobile App Development, Web Development, WordPress Development, PHP Development, Digital Marketing, Online Marketing Services, Framework Development, CMS Development, Magento/Ecommerece Developer, Maintenance and Support, Ecommerce Development, Managed IT Services, Big Data , UI/UX Design, QA & Testing, Zend Development, SocialEngine Developer.
7.
Konstant
Infosolutions
–
PHP Web Development – We're Experts
 As per clutch.co Konstant Infosolutions is one of the top-ranked PHP development company for offering PHP web application development in India. PHP developers at Konstant Infosolutions have in-depth technical know how required to develop PHP based website with highest level of customization.
An outstanding 90% of client satisfaction rate is another solid reason that makes them an appropriate choice in the list of top 10 PHP development company in India.
Their developers are certified in Zend and Laravel to simplify the website development even if there are complexities. The passion for providing client with best solution to keep clients ahead of competitors they keep themselves fully updated with latest technologies.
Foundation Year: 2003
Company size: 51-200 employees
Speciality: PHP/.Net Development, Web Design, Custom Web Application Development, OpenSource Application Development, Joomla & Drupal Development, Android App Development, Mobile Web Design, iPhone/iPad Applications, WordPress Design &  Development, Magento Ecommerce Solutions,
8.

SynapseIndia
–
PHP Web Development Company<
SynapseIndia is one of oldest PHP web development company in India with 19 years of experience in development of PHP based websites. During this period they have successfully delivered more than 5000+ web applications and portals based on PHP. This is made possible with huge team of 200+ web developers passionate about PHP.
Their developers are skilled in developing a robust, interactive PHP website that is also highly scalable. Their vast experience in open source scripting language especially jQuery, Javascript  AJAX, Linux and Apache helps them stand out as reliable PHP web app development company in India.
Foundation Year: 2000
Company size: 201-500 employees
Speciality: Web Application Development, Website Design & Development, PHP &.Net Web Development, Custom Web Design & Development, Game Development, eCommerce Solutions, Cloud Computing Solutions, Sharepoint Development, Salesforce development, Big Data, Angular JS Development, Custom CRM Solutions, Internet Marketing, Software Application Development, mobile app development, Open Source Development, Laravel development, Responsive web design, Magento development, BigCommerce Development, Xamarin Application Development, NodeJS development
9.

TIS India
–
 PHP Web Development
TIS India has a professional team of PHP developers who have experience of working on over 1000 plus PHP projects in various niches. They have developed from micro site to advanced website with multiple features for fortune 500 companies.
They have a certified team of PHP developers who are skilled in LAMP stack (Linux, Apache, MySQL,PHP); Ajax, Web 2.0 & 3.0 technologies tand will leverage it to add element of engagement in website apart from ensuring the PHP web application is robust, reliable and highly secure.
Foundation Year: 2006
Company size: 51-200 employees
Speciality: Responsive / Mobile Website Design, SEO, Website Development (PHP, Joomla, WordPress, Magento, Drupal), Ecommerce Website Design & Development, Content Marketing, Digital Marketing, Web Analytics, Paid Advertising (Search & Display), Social Media Marketing.
10. EZ Ranking
 –
CUSTOM PHP WEB DEVELOPMENT COMPANY
If you are really keen about development of PHP websites with highly proficient developers on behalf of latest technology then EZ Ranking is a suitable option to approach for the same. They hold the expertise to sort out technical complexity and show up with solution that is in exact accordance with client needs and requirement.
Why they deserve to be in the list of top 10 PHP development companies in India is due to their focus on speed as well as responsiveness of website to eventually ensure great user experience across all devices.
Foundation Year: 2010
Company size: 51-200 employees
Speciality:  Web Design & Development, Web Hosting & Maintenance, Pay Per Click (PPC), App Store Marketing, Link Building, Conversion Rate Optimozaion, Search Engine optimization, Digital Marketing Services, Social Media optimization, Mobile Applications. 
You may be interested in following: