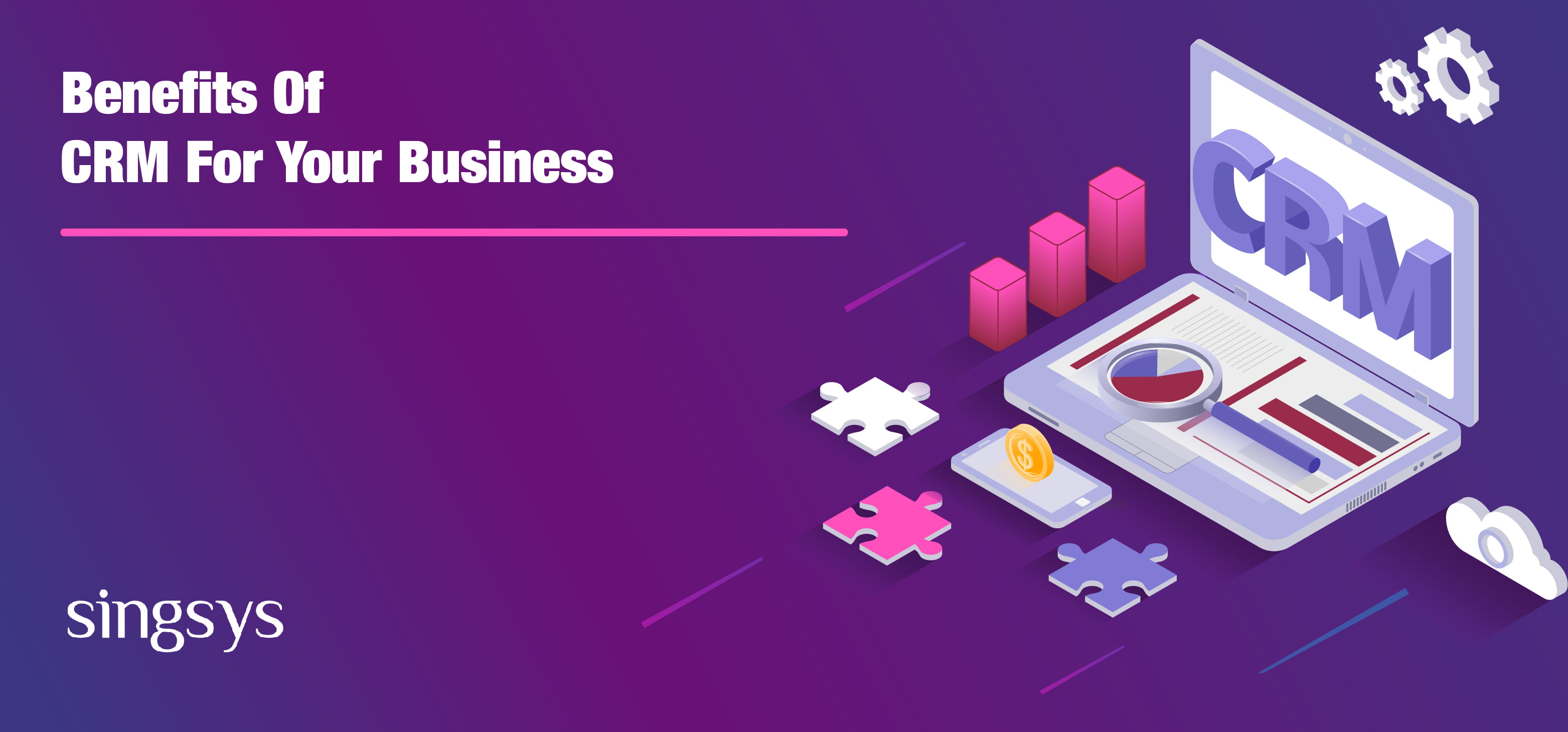 What is CRM?
Customer Relationship Management (CRM) is a strategy that helps businesses to enhance relationships with existing customers and acquire new customers faster. It uses analysis of customers' historical data to foresee customer needs and focuses specifically on customer retention and ultimately stimulating sales growth. A CRM system helps companies connect with customers, streamline processes, and improve profitability. 
Who uses a CRM system?
A CRM system is often used for B2B, B2C, SME and Enterprises. It is beneficial for sales, customer service, business development, recruiting, marketing, or any other line of business. A CRM tool allows you to collect customer's contact information, identify sales opportunities, record service issues, and manage marketing campaigns. It adds a personal touch to existing relationships between the business and the customers. Thus, with personalization touch, it enhances customer service, builds trust and helps in customer retention. CRM systems provide businesses with numerous strategic advantages. 
For example, in the eCommerce business, their employees can see how customers are communicated, what they've bought, when they last purchased, what they paid, and so much more.
CRM software
CRM software compiles customer information into a single CRM database so business users can easily access and manage it. This process includes collecting various customer interactions (over email, phone calls, chats, social media, or other channels) and automating several workflow processes, and giving managers the ability to track performance and productivity based on data stored within the system.
Common features of CRM software:
This allows users to segment contact information such as names, addresses, and social media accounts into groups to organize and better cater to them. You can also add notes and track interaction history to document conversations with specific contacts.
Manage the process of converting potential customers (leads) by identifying, following up and scoring based upon demographic and psychographic factors. It improves the productivity of your sales team by helping them focus on the right leads at the right time.
Email Client Integration helps by easily catering previous interactions and provide information accordingly to give them the best care possible. If you are already using an email marketing system like MailChimp or Constant Contact, you may prefer to integrate it rather than import that information to your CRM. 
Get routine summary reports of sales figures and performance (daily, weekly, monthly). Management can use these reports to make data-driven decisions. CRM helps you collect information from website traffic, enquiries, social media, then analyze it. These reports help in segmenting customers, tracking revenue, and managing personalized campaigns.
Marketing Automation Integration

.
Marketing automation allows you to more efficiently and strategically target audiences that are likely to be interested in what you're selling. CRM tools with marketing automation capabilities can automate sending marketing materials via email or social media, to enhance marketing efforts to customers from time to time.
Automating outgoing calls and follow-up campaigns allows your employees to devote their time and focus to more complex tasks. It is helpful for effective future campaigns. It also prevents duplicate efforts between a salesperson and a customer.
Some CRM systems include geolocation technology to create geographical marketing campaigns based on customers' locations. Geolocation technology is a surplus networking tool to find sales based on location. This helps in focusing on every customer effectively.
Sales Performance Management.

 
Managers can see what aspects of the sales team are performing well and what needs improvement. You can manage the performance of sales as well as identify problem areas with detailed data. Thus, improving sales by solving problems efficiently.
One of the ways your business will instantly increase efficiency is by simplifying workflows. CRMs can facilitate optimization by automating processes such as data collection, data analysis, marketing campaigns and other tasks.  It also provides reports and analysis to help users identify areas for improvement.
The chat feature is priceless to a modern user. Integrating a chat program like LiveChat with your CRM allows you to chat with employees, gather information. This information can be used to tailor your communication to the needs of customers. This boosts customer satisfaction.
Customer support features like FAQ pages, chatbots and email correspondence are becoming increasingly automated as AI databases improve. Users can control the output of your customer support features from your UI.
Third-Party Integrations.
Any other kind of software like ERP, BI, HR can be integrated with your CRM that will result in better functionality and streamlined operation.
Social Media Management Integration.
SMM efforts can be managed from the CRM. Integrate management platforms like Hootsuite are present to streamline your social media management and boost conversion.
CRM software benefits for your business:
 Easy access to customer data. 
Customer relationship management systems include databases that allow users to access the client's information. It allows to sync it to multiple devices, which results in the most up-to-date customer information from any access point.
 Streamlined processes through automation. 
CRM lets users regulate workflows and processes associated with sales, marketing, and customer support.  This improves coordination between these teams and contributes actionable insights into business performance and customer behaviour. 
The technologies used in implementing a CRM system are cheap and smooth as compared to the traditional way of business. A cloud-based system doesn't need special installation, no hardware to set up, keeping IT costs low and removing the difficulty of version control and update schedules. Additionally, there is very less need for paper and manual work which requires lesser staff to manage and lesser resources to deal with. 
In today's commercial world, efficiently dealing with all the customers and providing them with what they need boosts customer satisfaction. CRM is quick, easy to implement and very cost-effective in terms of capital outlay and is also extremely flexible, enabling you to scale up and add more people as your business grows. A good CRM platform provides you with powerful customer relationship management that lets you control marketing programs. With CRM, it's easy to track and nurture leads. This increases the chance of getting more business which ultimately intensifies turnover and profit. Two best PHP frameworks used for CRM are- Laravel and CodeIgniter. 
Laravel is one of the most used frameworks of PHP. Laravel has high-level features, top documentation, and Object Relational Mapper (ORM). It has a development path that includes high-level modules directly from the box. CodeIgniter is stagnant and can be used for small projects, but Laravel is the most effective and best choice for the CRM application.

Singsys has been awarded Top Company of the Year-2019 by SiliconIndia for Laravel based web application development specialization in CRM and ERP solutions. Considering customer service and a robust lead generation application, Laravel is the way to go. If you want to develop a new web application using laravel and need assistance, we are happy to help!