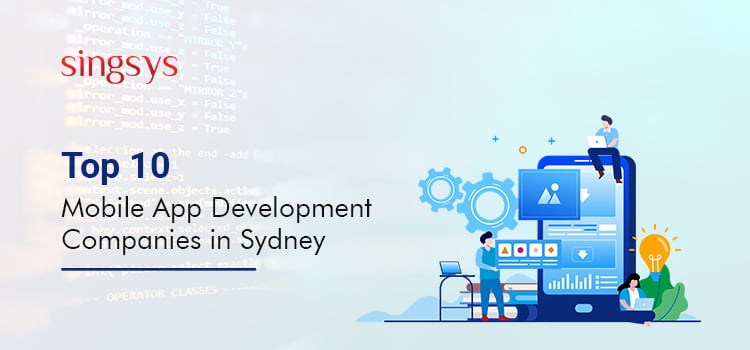 Mobile solutions are becoming remarkably vital to business success. Mobile applications are one of the easiest ways to spread information about the brand and its services to the target audience. Due to the popularity of smartphones, mobile application design is one of the hottest trends.
Australia is one of the top countries when it comes to Mobile Application development companies as it has a large number of professional companies and you can hire the Best Android and iOS Mobile App Developers in Sydney. If you are looking for a leading Top Mobile App Development Company in Sydney, Australia to turn their innovations into viable products.
Here are some considerations to keep in mind before outsourcing mobile app development services:
1. Singsys– 
Top Mobile Apps Developer
Singsys is one of the leading mobile, web, and eCommerce app development company in Dubai with a team of experienced developers who are dedicated to providing custom-built mobile apps on Android & iOS that solves the purpose of client business without compromising on user-friendliness and features.
Singsys, we value the diversity and the upcoming trends with the exclusive solution renderings across major business verticals for iPhone, iPad, and Android apps. We at Singsys have the resource pool that has gained enough experience to be able to develop effective Hybrid apps for our clients.
Foundation Year: 2009
Company size: 51-200 employees
Specialization: Mobile Application Development, Flutter App Development, Website Development, eCommerce Store Development, React Native App Development, and Digital Marketing.
2. EB Pearls–
Multi-Award Winning Mobile app developers
EB Pearls is a leader in mobile app development in Australia. EB Pearls are Australia's most experienced Android and iPhone app developers. They have been voted Australia's top mobile app developer 2019/20 by Clutch with a 4.9/5 star rating from our customer reviews. They have an immense amount of expertise, experience, and organization to outline a solid foundation for a successful mobile application.to help you with UX, UI, development, optimization, and management of complete web and mobile applications.
Foundation Year: 2005
Company size: 51-200 employees
Specialization: Web Development, Web Design, eCommerce, Content Management System (CMS), iPad Apps, iPhone, Search Engine Optimization (SEO), Social Media Marketing, Social Media Optimization (SMO), Android Apps, Mobile App Development, iPhone app development, WordPress developer, Shopify developer, and Flutter app development.
3. App Boxer–
Hello, We are App and Game Developers
App Boxer is a Sydney based agency with a passion for innovation and delivers the best app development solutions with solid user experience design and development is central to each of our services. With a range of specialties ranging from native app development to rescue projects and validation testing, we ensure all deliverables are tailored to the needs of your market. Whether you are a Startup or an Enterprise, App Boxer's driven, smart, and experienced team is ready to collaborate with you on your next app project.
Foundation Year: 2016
Company size: 11-50 employees
Specialization: App Design, App Development, Game Design, Game Development, Smartphone Apps, Business Apps, Business Applications, Augmented Reality, Virtual Reality, Agency Partnership, Startups, Marketing Strategy, UI, UX, CX, Native iOS, Android, Investors, and Government Funding.
4. Appello–
Leading Software Developers
Appello is a full-service software company that offers premium software and design solutions for enterprise and startup clients globally. They have expertise in building award-winning apps, web-apps, and software platforms. Their full-stack engineers, frontend engineers, UX/UI designers, and industry-leading project managers to take your project to the next level. At Appello, they develop and explore the possibilities with location-based services.
Foundation Year: 2017
Company size: 51-200 employees
Specialization: App development, software development, software design, web app development , software service provider, and UX design.
5. Digiground–
Sydney Mobile Application Development
Digiground is a Sydney based mobile application development company and they provide end-to-end application development for all types of projects. Their experienced app developers have a proven track record of delivering functional apps that meet all your goals and requirements. Their application design is created specifically to solve the needs of users and their app designers will work closely with you to gain an understanding of the designs we need to create for your users.
Foundation Year: 2016
Company size: 11-50 employees
Specialization: Web Development, Lead Generation, Graphic Design, Mobile Applications, Search Engine Marketing (SEM), Search Engine Optimisation (SEO), Business Solutions, Copywriting, Photography, and Videography.
6. Cooper Design-
Transforming ideas into realities
Coopers Design is one of the reputable mobile application companies in Sydney. They strive to ensure specific requirements are met through their design and development team. Coopers Design began with the desire of bringing new creative experiences to life that meet the requirements and enhance the businesses of each of our individual customers. The team at Coopers Design are each skilled in different and some shared areas of expertise.
Foundation Year: 2019
Company size: 1-10 employees
Specialization: Website Design and Development, Application Design And Development, eMarketing, Graphic Design, and Business Branding, and Hosting and Support Solutions.
7. Appsfirm-
Sydney Mobile Application Development Service
Appsfirm is one of the leading mobile application development companies in Sydney and the designers and developers at AppsFirm have many years of experience and the expertise to deliver the best digital solution for you. If you want to get ahead of the competition, hire us and we can design a highly optimized website and Mobile Application for your business. We will construct a digital solution that will increase your sales and allow you to stay steps ahead of your competitor.
Foundation Year: 2008
Company size: 11-50 employees
Specialization: mobile apps, android, ios, ionic, phonegap, drupal, joomla, wordpress, hosting, web development, web, react, react native, java script, and ecommerce.
8. TheAd-
We take care of your whole online presence
TheAD Technical experts connect the client and server parts to fully work with the application and interact with the user. This is the stage that has the creation of a working interactive model.
The AD predicts user actions by arranging cons and buttons and thinking through the functionality – from the main to secondary pages. Their goal is to provide the best service and possibilities which were previously only available to corporations. We take top tier services and deliver to all business types; be it small or mid-size businesses.
Foundation Year: 2013
Company size: 11-50 employees
Specialization: mobile apps, android, ios, ionic, phonegap, drupal, joomla, wordpress, hosting, web development, web, react, react native.
9. Creativ Digital–
Complex challenges need Creative solutions
Creativ Digital is a full-service Sydney application development company offering quality app development, web design Sydney, web development, and digital marketing. They help brands to flourish online and specialize in working with businesses Australia-wide. They have a team of web designers, web developers, and digital marketing specialists. They create high-quality websites, apps, and marketing to help your business thrive online.
Foundation Year: 2007
Company size: 11-50 employees
Specialization: mobile apps, android, ios, business website development, custom web development, eCommerce web design and development, CMS web design and Blog Design, Search Engine Optimisation, and Digital Marketing.
10. Zealous Systems–
Microsoft Gold Certified Partner
Zealous System is a trusted technology leader in software and web development services, having expertise in mobile app development for various platforms – iOS, Android – as well as in the latest technologies – Swift, Kotlin, Java, Flutter, Xamarin, Ionic, and React Native. They believe in working in synergy and growing together. They are passionate to code your success, which is why we embrace agile methodologies in all our clients' projects to turn great ideas into great mobile apps.
Foundation Year: 2007
Company size: 51-200 employees
Specialization: Augmented Reality, React JS, Node JS, Vue JS, Angular JS, Android, iOS, Flutter, React Native, Swift, Ionic, Kotlin, Xamarin, IoT, ChatBot, MVC.Net, Java, WCF – WPF, ASP.Net Core, PHP, Joomla, WordPress, Drupal, Shopify, and Laravelmobile apps, android, ios, ionic, phonegap, drupal, joomla, wordpress, hosting, web development, web, react, react native.