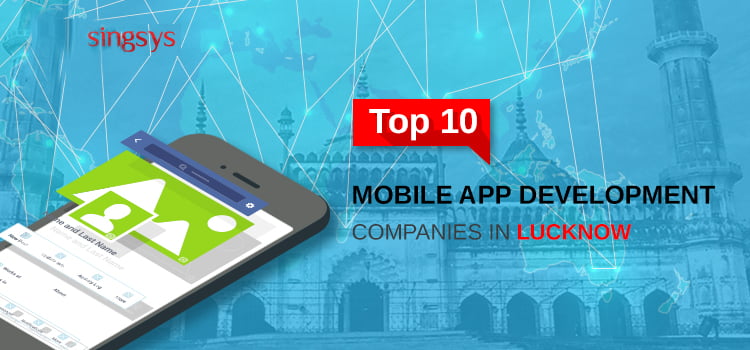 Mobile app is not just limited to countable people but it has witnessed global reach due to high quality and user friendly custom mobile apps. These apps are developed leveraging cutting edge technologies by mobile app development companies in Lucknow.
Give a time to think, how can you can implement the mobile app in your business for growth and save your time. Such as having CRM system to manage customer, HRM mobile app to manage your employees, Inventory management system to have a control on your inventory, an attendance management system to track the employees in an out and to recognize the time which you can use on other business planning for growth.
 
Data capture, real time notifications, data synchronization over platforms and more can be easily done by an app based on your idea. It  smooths process execution, speed and security on mobile browser has led to the change from web to mobile apps. Flawless mobile applications helps to increase business efficiency drastically.
At this time in Lucknow, there are many mobile apps development companies which are providing right solutions to your problems by developing a custom mobile app. When there are so many mobile application development companies then only the best deserve to work on your idea.
Based on delve deep, here is the list of top 10 mobile application development companies equipped with cutting edge technology, experienced developer and designers, deep industry insights to transform your idea into a mobile app.
Singsys is leading Mobile App Development Company in Lucknow that believes in development of high end mobile apps with intuitive UI to engage user and take client business a step ahead of the competitors.
They have a more than 10 years of experience in providing custom mobile app development services. Singsys is trusted by Fortune 500 and startup companies companies for their technical expertise and ability to adhere best mobile app development practices.
Singsys comprises of highly skilled, professional and dedicated team of 200+ mobile app developers and designers to ensure development is done with right approach and in stipulated time. Singsys goes an extra mile to satisfy client with customised mobile apps development with user friendly UI and futuristic vision.
Singsys an IT firm as foundation of your Ideas into Mobile apps
Foundation Year: 2009
Company size: 200+ employees
Speciality: Mobile Application Development, Website Development, eCommerce Store development, Digital Marketing, React Native App Development.
2. IPHS Technologies
IPHS Technologies is here to give shape to your business by providing mobile app solution. To provide best solutions, they use the guidance of tech experts. They provide high functionality solutions related to app development.
Their main goal is to design, develop and produce solutions that will be customized as per client business requirements.Being one of the best mobile technology in Lucknow, their aim is to provide advanced mobile applications that are developed on latest technologies to provide robust and scalable mobile apps.
Foundation Year: 2013
Company size: 51-200 employees
Speciality: iPhone/iPad/iPod Apps, Android Phone Apps, Apps for Tablets, Notes and Kindle fires, Game Application.
3. STPL
STPL is in the market since  2004 and it is an ISO 9001:2008 certified offshore mobile app development company. STPL with its skilled team of mobile application development, they provide highly functional, futuristic and cost effective mobile applications. STPL is a Microsoft Gold certified partner accredited by  NASSCOM. STPL has a experience of over 10 years.
Foundation Year: 2004
Company size:51-200 employees
Speciality: iOS, Android,PHP Zend, PHP Nuke, Real Estate Solutions, Social Networking Platform, Custom Application Development, Quality Testing Services.
4. AppWorks
AppWorks came to existence in 2017 and has already achieved many milestones in mobile applications. AppWorks provide multiple facilities in mobile app development which can make your work a lot easier.AppWorks Technologies bring skills and forward looking perspective to solve customer challenges.They serve proper guidance to their customers.
Foundation Year: 2017
Company size:51-200 employees
Speciality: iOS, Android
5.  NewGenApps
NewGenApps is one of the oldest mobile application development company. NewGenApps has started developing mobile applications since the iOS and android were first released for developers in 2008. They have the experienced team to reshape your mobile app ideas.
Their motto is Stay a Step Ahead Always
Foundation Year: 2008
Company size:51-200 employees
Speciality: iOS, Android, Artificial Intelligence, Virtual Reality, Augmented Reality, Predictive Analytics.
6. Xipe Tech
Xipe Tech is one of the leading software companies in India providing mobility solution facilities with the utmost professionalism.Their team comprises of mobile app developer who are creative, energetic,tech savvy and dedicated to their work.
In Xipe Tech, their main objective is to provide satisfaction to their customers through custom built mobile apps  and everything else becomes secondary.
Foundation Year:2014
Company size:11-50 employees
Speciality:Software Development,iOS Application Development,Search Engine Optimization (SEO) Services, Social Media Marketing (SMM) Services
7. Trivialworks
This company was founded by a team of hard working,enthusiastic IT specialists who are doers.They bring their customer ideas into reality along  with the customer satisfaction. Their innovative and dedicated engineers provide applications with latest technologies.
Trivial Works vision is Outstanding Technology for Outstanding Businesses.
Foundation Year:2011
Company size:51-200 employees
Speciality:Software development, iPhone Apps, Android Apps development,e-commerce applications
8. Augurs
Augurs is a digital agency whose long-term strategy involves outsourcing.This company works for everyone who is looking for a perfect mobile app in a limited time with a high quality. Augurs vision is to develop and provide mobile solutions to customers with user friendly UI that are affordable and delivered in specified time frame.
Augurs believes in the philosophy of  FUN & FREEDOM.
Foundation Year:2013
Company size:51-200 employees
Speciality: Magento,Joomla, WordPress, BPO Solutions, iOS app development, Android app development
Vortex Global Services is a mobile development company founded with the vision of providing cutting edge solutions to small and medium enterprise.Vortex Global goal is to provide high quality, cost effective applications which can help your business to grow. They have the right mix of infrastructure, flexibility and expertise to right mobile app solutions to small scale software companies to large enterprises.
Foundation Year:2012
Company size:51-200 employees
Speciality: E-Commerce Implementation, Internet Marketing, Mobile Websites, Android Apps, and Hybrid Mobile Apps.
10. Ezeonsoft
Ezeonsoft  develops highly operational  and futuristic IT solutions. Their strong team of software engineers, computer professionals, application developers show  a great sense of bonding to be recognised as a complete one-stop mobile app development company in Lucknow.
Foundation Year:2014
Company size:11-50 employees
Speciality: iOS, Android,software maker, application maker, java, php, json, Iphone app, dot net app, phonegap, native app, custom mobile app
This list of Top 10 mobile application development companies in Lucknow is in no particular order, hopefully it will help you to get your mobile app idea developed into reality. You can also see list of Top 10 website development companies in Lucknow.