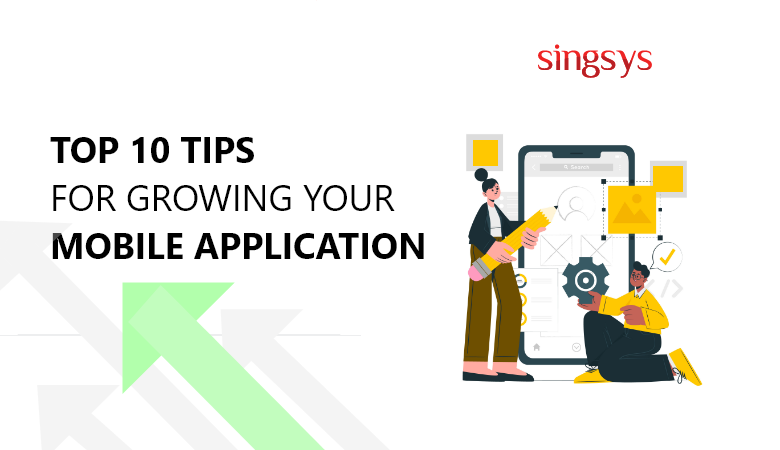 In the mobile app business, every marketer and developer has the same objectives i.e. to obtain and grow their mobile app user base. But this puzzle of procurement and retention is not easy to handle and in today's view, you face a series of hurdles, including fierce competition, changing consumer patterns, and high user supposition. Here are multiple stats that highlight the task that procuring and sustaining a mobile app audience presents in today's world.
Effective app and mobile marketing require optimizing for the full app user lifecycle, ensuring those users are high-intent, engaged, and activated. Holistic app growth marketing considers the whole user funnel, through acquisition, activation, retention, and monetization all the way to your referral activity.
Make the application interactive and add more visual content 
One of the biggest objectives of any marketing channel is engaging audiences and encouraging them to take action on a website. After all, a website is often the major lead-generation tool for businesses and brands. When you can make it an interesting spot for visitors, they are more likely to interact with your brand. Adding interactive content to your webpage is a great way to increase your conversions and give your visitors a more entertaining experience. When a customer knows that a website delivers a great user experience and that there are many opportunities for interaction, they are more disposed to return even if they do not become a customer right away.
Make sure the mobile application is available on the Google Play Store and has good reviews in the Google Play Store.
Invest in App Store Optimization
The objective of app store optimization is to increase your app's ranking in the search outcomes within an app store, for example, the Apple App Store or the Google Play Store. As such, this tactic is mainly targeting users in the phase of discovering your business and offers.
Growing your app's ranking in an app store search generates more traffic to your app's listing, and expands the likelihood that users will hit download. In past years, ASO has gotten traction as a popular app marketing plan. ASO takes into account components of your app's listing including your app's name, your keywords, your ratings and reviews, the number of downloads, and your app description.
For example, your fitness app may target keywords such as "weight loss," "at-home workouts," or " run tracking." To optimize each of these relevant pieces, you will want to craft your own ASO plan or even hire an agency to help out.
Increase Reviews and Ratings
Put-down energy into your app's reviews and ratings will benefit the growth of your mobile app audience in various ways. Data shows that 80% of users look at an app's rating before deciding to download it. Reviews and ratings also give social proof, which carries heavy psychological influence over your potential users.
In addition to either retaining or deterring users from your platform, reviews and ratings directly impact your App Store Optimization efforts, so ensuring that your current satisfied customers are properly taking the time to rate and review your platform that can be twofold. Companies use multiple tactics to drive reviews such as you can send out an email campaign to actual users offering a reward in exchange for a rating or review. Another option is prompting users for reviews and ratings directly in the app experience using in-app messages.
The application is simple and user-friendly; users can easily interact with it and get the service easily
User-friendly means that a customer app is attractive, easy to use, and simple and the customer can anticipate the product or service. It is easy to start with the app and know how to use it, high complexity is not valuable for the user. Reliability is a vital component as an app cannot help the user while having bugs and not working appropriately. 
Also, important are user experience (UX) and user interface (UI). UX means that the app was made for the user to fulfill his needs and wants. UI means that the interface of the app is well-customized and easy to recognize for the targeted group. So how to get the title "user-friendly" for your app? Just recall it is all about the user, plan it simple, solid, and helpful and then start developing!
A mobile application must have a good logo which represents the brand value of the company
A logo will intensify your app. Users are likely to recognize your business through your logo, as well as your business' name or slogan. Launching an app that showcases your logo can be an effective marketing tool to help users recall your business. Trademarks can then help protect that logo.
An application must contain a referral link whose objective is to refer to your friend and get the reward
Referral links are the fuel of your rewards program. They allow businesses to track exactly which users have sent referrals to your site, and which of those referrals end up as new sales.
When a user joins a referral program, they are assigned their own unique referral link. This link is used to keep a trace of every referral that comes from a single user.
A referral link also traces each step of your referral campaign in real-time, from user sign-ups to new referrals, converted leads, and more. By showing a clear picture of your whole referral path, a referral link can help you upgrade and maximize your referral marketing endeavor.
Give a brief introduction or description of your application to your segmented audience.
Audience segmentation is a marketing plan based on identifying subgroups within the target customers in order to deliver more tailored messaging and build stronger understanding.
Offer to retain the customers 
When you newly launch your app you give them some offers to your audience and also mention limited-time deals which get more audience and your app is downloaded by a huge audience because without benefits no one can interact with your application.
Conduct competitive analysis
Marketing to your mobile app users except first understanding the scope of your target market is an easy way to waste valuable time and resources. In order to avoid going in blind, you will need to plan great research on your space, your clients, your app journey, and more.
The first point in this process should be conducting research on your competitors. What other applications are in your space? Who are your direct and indirect competitors? How is it that your offering is different from theirs? Beyond recognizing the other mobile apps in your space with a similar product/service offering, you will also want to notice how it is that they are promoting their app throughout its lifecycle. You may want to take notes on how many downloads they have in the app store, their target users, their positioning and messaging plan, and so on.
Understand Your Users
When you make marketing messaging for your target users, you will need to have clearly nailed down your target personas. Who are your clients? What do they care about? What type of spending power do they have?
Breaking down who your customers are, what they care about, and what their nature is like will help you develop messages for your clients across their journey. For example, if you know that your animal-loving users care most about cats, you can later make cross-channel messaging campaigns leading with cat-themed promotions and deals.
In addition to these basic persona characteristics, you should also nail down where your customer is most present when it comes to their channel and device liking.
Are you fed to a predominantly Android or iOS customer base? Where does your customer live? Doing so can let us know the way your marketing strategy fuses with your user experience, or UX, over your audience's most preferable devices. Nailing down your client will help you subsequently design campaigns that are optimized for the device type and platforms that your client is most active on.
Conclusion
The success of these strategies and plans will be heavily dependent on your understanding of your audience. You are much more likely to be successful if you trigger the prompt based on the users' latest activity within the app, so ensure you apply the data from your queue to segment your audience, and personalize time period, copy, and tone for victorious push campaigns.